Air Jordan - the Era of the Flaunted AIR
---
Air Jordan shoes, true to their name, have always featured one or more types of Nike AIR cushioning. However, unlike the Nike training shoe line, the Air Jordan shoes generally do not show off their Nike AIR cushioning. Only the Air Jordan 3, Air Jordan 4, and Air Jordan 6 have had visible Nike AIR.
---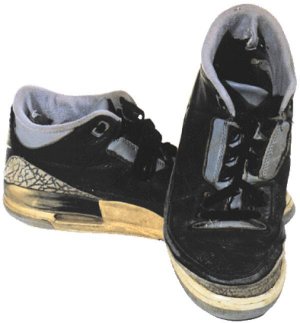 This is the first model of Air Jordan that made the Nike AIR visible (as well as the first with the JUMPMAN logo). Originals were made in 1987 and hit the market in early 1988. The original price was $100. Reissues were made in 1994 and 2001.
The sides also included decorative artificial iguana skin.
---

The Michael Jordan "JUMPMAN" logo is on the tongue (not easy to see in this picture). Both the Air Jordan 3 and the Air Jordan 4 have a tendency for the midsole to crack around the AIR hole.
The original Air Jordan 4 was made in 1988 and hit the market in early 1989. They originally sold for $100. This shoe was reissued in June 1999, but dealers went through their limited supply almost instantly. One of my readers pointed out that the reissue replaced certain components that were plastic in the original with leather.
---

The original Air Jordan 6 was made in late 1990 and sold in 1991 for $125. Reissues were made in August 2000.
---

Continue to Air Jordan - the Era of the Rising JUMPMAN


Back to the top of Charlie's Sneaker Pages!
Last Updated: 24 February 2017
---
Search for more shoes:
---
Click here to send E-mail to Charlie.
---
Charlie's Sneaker Pages copyright 1995-2019 by Charles L. Perrin.
READERS PLEASE NOTE: Names of athletic shoe manufacturers, shoe styles, and technologies may be trademarked by the manufacturers. Charlie's Sneaker Pages uses these names solely to describe the shoes with the same familiar nomenclature used by the manufacturer and recognized by the reader.