Mom's One Of Us (She's Got Keds!)
---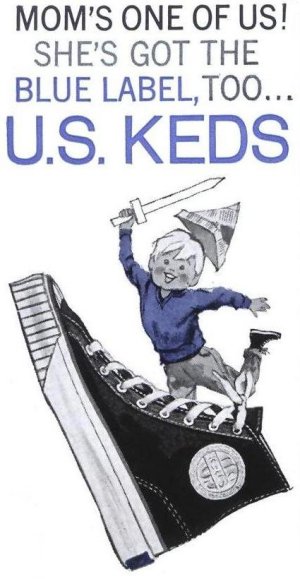 Here is another classic sneaker ad, this one from the June 1960 Ladies' Home Journal. Note that the Keds now have the trademarked blue label they have to this day. Son has his black high-top "Big Leaguer" with "traction-tread sole," while Mom has her "Katydid" slip-ons.

Here's how they advertised Keds in 1960:
"Canvas shoes may look alike, but that blue label makes a whale of a difference, for it says they're genuine U. S. Keds... made to fit better and last longer. Built over scientifically shaped lasts, with shockproof arch cushions and permanently bonded soles and uppers. From Granddad on down - it's U. S. Keds for quality!"
---

Back to the top of Charlie's Sneaker Pages!
Last Updated: 23 February 2017
---
Search for more shoes:
---
Click here to send E-mail to Charlie.
---
Charlie's Sneaker Pages copyright 1995-2021 by Charles L. Perrin.
READERS PLEASE NOTE: Names of athletic shoe manufacturers, shoe styles, and technologies may be trademarked by the manufacturers. Charlie's Sneaker Pages uses these names solely to describe the shoes with the same familiar nomenclature used by the manufacturer and recognized by the reader.