Old Sneakers - 1931 "Super-Service Sports Shoe"
---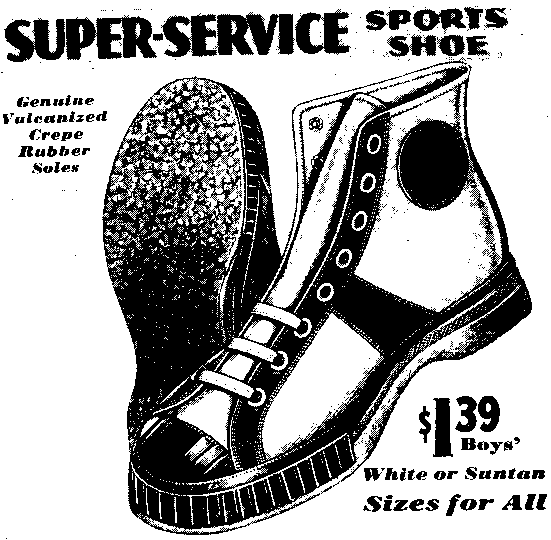 NOTE: Available from the 1931 Montgomery Ward Spring Catalogue
The Montgomery Ward editors described the "Super-Service Sports Shoe" this way:
"Tough" is the only word that can properly describe this Shoe. The thick resilient Genuine Vulcanized Crepe Sole will stand the utmost in hardest wear and abuse. The extra heavy duck upper, white or suntan, is tough too, and is backed up with a drill lining. Special inner sole for foot comfort. Black rubber and fabric trimming along eyelets, instep stay, ankle guard, full length back stay. Black rubber ribbed toe cap. Nickeled eyelets.

---

Back to the top of Charlie's Sneaker Pages!
Last Updated: 23 February 2017
---
Search for more shoes:
---
Click here to send E-mail to Charlie.
---
Charlie's Sneaker Pages copyright 1995-2021 by Charles L. Perrin.
READERS PLEASE NOTE: Names of athletic shoe manufacturers, shoe styles, and technologies may be trademarked by the manufacturers. Charlie's Sneaker Pages uses these names solely to describe the shoes with the same familiar nomenclature used by the manufacturer and recognized by the reader.