Soccer Boots
While the rest of the world calls these "football boots," in the United States, these are known as "soccer boots," "soccer cleats," or "soccer shoes." (Or "tennis shoes" if you aren't paying attention.)
---
Indoor boots:
Indoor boots have no cleats. Suitable for play on artificial turf or as a general-purpose recreational sneaker.

This is the adidas Samba, a very classic indoor boot.

---
Artificial turf boots:
These are similar to American football shoes intended for artificial turf, but intended for soccer. They have many small cleat-like projections.

This is the adidas Spectral Turf boot.


This is the Nike Tiempo 750 TR boot. Compare to the Tiempo 750 below.

---
Molded boots:
These have cleats that are integral with the bottom plate.

This is the adidas Beckenbauer #5 boot.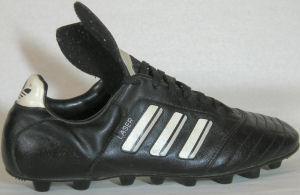 This is the adidas Laser boot. Note the extra cleats compared to the Nike Tiempo 750 below. The individual who sent me both these pictures commented the Laser was much less likely to sag and wobble on hard ground.


This is the Nike Tiempo 750 boot.

---
Removable-cleat boots:
These have cleats that screw into the bottom plate. They have the advantage that cleats may be designed in multiple sizes, optimizing traction on a given field surface; also, cleats may be replaced if excessively worn. Has the disadvantage of extra weight and complexity.
---
But... Soccer sandals?
They aren't for the playing of soccer; they're for wear before and after playing soccer where boots would be inappropriate or difficult. Some cleats are difficult to wear on non-turf surfaces.
---

Back to the top of Charlie's Sneaker Pages!
Last Updated: 19 February 2017
---
Search for more shoes:
---
Click here to send E-mail to Charlie.
---
Charlie's Sneaker Pages copyright 1995-2021 by Charles L. Perrin.
READERS PLEASE NOTE: Names of athletic shoe manufacturers, shoe styles, and technologies may be trademarked by the manufacturers. Charlie's Sneaker Pages uses these names solely to describe the shoes with the same familiar nomenclature used by the manufacturer and recognized by the reader.