adidas Cities Series - North America
adidas has created a series of shoes named after great cities: One set for North America, another for Europe. Interestingly enough:
Europe gets both Europe and North America.
North America seems mainly to get only North America.
---
adidas Bahamas:
A brown suede shoe with darker suede stripes.
---
adidas Dallas:

The Dallas is a retro-style running shoe with Velcro instead of laces. Dallas? It's the big city that embodies Texas in popular culture. Personally, I think the shoe should have been a slip-on... look at cowboy boots some time!
---
adidas LA Trainer:
An early training shoe that has been periodically reissued in various colorways. Some include:
Dark blue nylon with silver stripes
White leather with various stripe colors
---
adidas Miami:
Royal blue suede with white stripes and details.
---
adidas Montreal:
An early 1970's training shoe with an outsole similar to the adidas Gazelle. Gray with orange stripes and an extensive black sidewall. It was notable for having a fold-down heel.
---
adidas New York: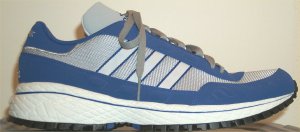 The New York sneaker from adidas is a retro-styled running shoe. Ironically, the New York is widely available in Europe but the European-city shoes are for all intents and purposes unavailable in the United States. On the other hand, one might be able to find them in New York City... some of them are also available in San Francisco.

Charlie's opinion: These are great kick-around shoes, period.

As to "New York" for a name? Home of a famous marathon, the undisputed financial center of the world, one of the major cultural centers of the United States... why not?

This particular version is different than the other versions shown here. Differences include: The style name is on the rearmost stripe (not the heel like the first three examples); Dellinger Web; Trefoil ("pot leaf" Originals) logo and not the Performance (triangle) logo.
---
adidas San Francisco:
A chocolate brown shoe with orange stripes.
---

Back to the top of Charlie's Sneaker Pages!
Last Updated: 25 February 2017
---
Search for more shoes:
---
Click here to send E-mail to Charlie.
---
Charlie's Sneaker Pages copyright 1995-2021 by Charles L. Perrin.
READERS PLEASE NOTE: Names of athletic shoe manufacturers, shoe styles, and technologies may be trademarked by the manufacturers. Charlie's Sneaker Pages uses these names solely to describe the shoes with the same familiar nomenclature used by the manufacturer and recognized by the reader.