Air Jordan - the Era of "Air Jordan Wings"
---

The first two Air Jordan basketball shoe models featured an "Air Jordan Wings" logo. The Air Jordan 1 featured the logo on the top outside, at approximately ankle level. The Air Jordan 2 featured the same logo, but moved it to the tongue of the shoe.
Michael Jordan broke a bone in his left foot wearing one of these two designs; somebody told me he was wearing the Air Jordan 1, but others have told me it was actually the Air Jordan 2. In either case, foot damage is NOT a good omen for a pair of basketball sneakers!
---

The first Air Jordan model featured the "Air Jordan Wings" logo on the outside at approximately ankle level. It's on the top blue portion of the pictured shoe. This picture shows the atypical (for an original) Air Jordan 1 colors of black and blue.

Original versions were made in 1985-1986 and cost $65. Reissues were made in 1994, 2001–2004, and 2007–2016.
---
There was a distinct subset of the Air Jordan 1 named the "Air Jordan AJKO." The "AJKO" variant was made from canvas. Some people say that "AJKO" stood for "Air Jordan Knockoff" but they were indeed a Nike product.
---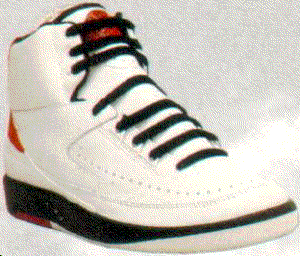 When I saw these shoes in reissue in the fall of 1995, I was tempted to buy them. Their design simplicity reminded me a lot of the Air Jordan 9. The reissue had both low-top and high-top versions. The original shoes were made in Italy during 1986 and 1987. Reissues were made in 1994, 2004–2005, 2008, 2010, and 2014–2016. They originally sold for $100.
The "Air Jordan Wings" logo present in the Air Jordan 1 moved to the top of the tongue. The logo is partially visible through the laces in this picture.
---

Continue to Air Jordan - the Era of the Flaunted AIR


Back to the top of Charlie's Sneaker Pages!
Last Updated: 27 May 2017
---
Search for more shoes:
---
Click here to send E-mail to Charlie. p>
---
Charlie's Sneaker Pages copyright 1995-2019 by Charles L. Perrin.
READERS PLEASE NOTE: Names of athletic shoe manufacturers, shoe styles, and technologies may be trademarked by the manufacturers. Charlie's Sneaker Pages uses these names solely to describe the shoes with the same familiar nomenclature used by the manufacturer and recognized by the reader.