A dissertation on the size of sneakers
---
I have had certain nosy readers ask me, "What size of sneakers do you wear?" The answer to that is:
Large enough not to pinch
Small enough not to flop around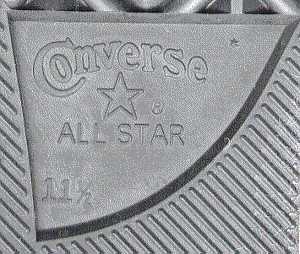 For those who prefer quantitative information, all we need to do is to get down to the outsole level and examine this question from the genuine and original Converse "Chuck Taylor" All-Star view of the issue. However, athletic shoe manufacturers are notoriously fast and loose with their sizing. Depending on the manufacturer and model, I've in the past few years bought anything from an 11.5 4E (wide) from New Balance to a 14 from ASICS.

---

Back to the top of Charlie's Sneaker Pages!
Last Updated: 13 February 2017
---
Search for more shoes:
---
Click here to send E-mail to Charlie.
---
Charlie's Sneaker Pages copyright 1995-2021 by Charles L. Perrin.
READERS PLEASE NOTE: Names of athletic shoe manufacturers, shoe styles, and technologies may be trademarked by the manufacturers. Charlie's Sneaker Pages uses these names solely to describe the shoes with the same familiar nomenclature used by the manufacturer and recognized by the reader.