Converse All Star - Myriad Patterns
---
In addition to basic black and white, and colors, Converse has made the Converse "Chuck Taylor" All Star in many patterns and color combinations. Either I have seen the following, or others have reported:
Alphabet patterns:

Black with multi-colored letters [2005]
White with multi-colored letters

Argyle:

Pink/green/white [Summer 2004]

Artwork

White/Yellow Jungle [Spring 2006]

Bandana:

Red/Cream [Spring 2003]
Blue/Cream [Spring 2003]

"Batman" designs:

"Joker"
Red/black [Late Fall 2005]
"Spotlight" [Fall 2005 seasonal]

Black and white faux boa constrictor [July 1997]
Black Widow [Summer 2004]:

Black background
Red background

Camouflage:

Black/white [Fall 2005]
Charcoal
Desert [Summer 2004]
Pink/red [Summer 2004]
Green [July 2002, 2005]
Light Olive
Olive Drab [October 1997]
Sky Blue [July 1997]
Skull Camo [2007]
Blue [Summer 2004]
Urban White/Gray/Black [July 1997]

Canadian Flag
Cargo Stamp Design "All Star - Made in USA"
Checkerboard:

Black and white
Red and white

Christmas (most of the Christmas versions have a wreath around the Chuck logo):

Candy Cane red stripes, green tongue [Fall 2005]
Christmas ornaments
Green velvet high tops with a red, green, and white tartan plaid tongue and a "jingle bell"
Green, White/Red/Green plaid laces and a "jingle bell"
Plaid in red and green with "candy cane" lining and a "jingle bell"
Red and green plaid
Tricolor Panels (Red and green sides with a white tongue)
White with elf print in red and green
White with "glow in the dark" Santas

Cinco de Mayo:

Green (red and white trim, normal Chuck patch)
White (red and green trim, special Chuck patch)

Class of 1990 design (Black with "glow in the dark" white)
Club Print (rugby-style stripes):

Black/blue/white
Black/red/yellow
Cranberry/parchment/yellow
Green/light green/parchment

Comic [Summer 2003]
"Conasaur Collection" (dinosaur pattern... the star was replaced by a dinosaur)
Eternal Flowers [Spring 2006]
Flames - black, with:

All black (black Chuck patch) [Summer 2004]
Red and yellow [January 2002]
Blue and white [Spring 2004]

Flip:

Black, Green, Amber [BTS 2005]

Funk Flo [Spring 2005]:

Black/multicolor
Pink/multicolor

Gingerbread Men [Fall 2005]
Giraffe (Brown spots)
Glitz Butterfly [BTS 2007]
Graffiti [2005]:
Hawaiian floral motif:
Hello Kitty
Houndstooth:

Black/red
Black/white
Parchment/tan/mink
White/black/pink

Island - Light/dark blue
Jackass Edition [coming September 2006]
Jamaican flag-inspired pattern (green, yellow, black)
Leopard [Summer 2003]
Logos (multiple copies of ankle patch image, Chuck Taylor signature, heel patch image in non-base color):

Black (white)
Pink (red, green, white)
Red (black, yellow, Carolina blue)

Multicultural [2006]
Neon Rainbow
Notebook:

Black and doodles [2005]
White and doodles [2005]

Orange, Red, Blue, Green (Different colors for the tongue, each side, and the heel strip) [between 1983 and 1985]
Paint Spatters (multicolored on a white background)
Paisley (green)
Patches

Black [BTS 2006]
Chocolate [BTS 2006]
Parchment [BTS 2006]

Peace Sign:

Black/white [Fall 2003]
Denim/black/red

"Peace Words" in multiple languages [August 2004]
Pinstripes:

Black and parchment [Summer 2005]

Plaids:

Red
Cardinal/navy/barley
Green
Blue
Navy/yellow/pink
Madras

Purple, Green, Blue, and Cream (Different colors for the tongue, each side, and the heel strip)
"Railroad Engineers' Overall"
Red, Blue, Green (Blue heel strip and tongue, green on the Chuck-patch side)
Rolling Stones "Steel Wheels" Tour (tongue design) [1989]
Sailor Jerry [Spring 2006]
Skull Flame [2007]
Snakeskin (Canvas... not a real snakeskin!)
Spider Web
Stars 'n' Bars (Bars on the sides; stars on the heel and tongue) [CORE]
Stenciled [Spring 2005]
Sticker [2007]
Tattoo Print:

Black with red and white [Summer 2005]
Black with blue [BTS 2005]
Green with black [BTS 2005]

Three-Tones:

Black/Green/Amber [2006]
Red, White, Green [Christmas]
Red, White, Blue
Navy, Red, Old Gold [Summer 2004]

Tie Dye:

Black/gray [Spring 2002]
Orange [Fall 2001]
Pink/red [Spring 2002]
Purple [Fall 2001]

Two-Tones:

Black and pink (mostly black) [Summer 2003]
Black and red
Black and gold [Summer 2003]
Black and charcoal [Late 2004]
Black and white [Summer 2003]
Chocolate and Pink [Summer 2005]
Chocolate and Carolina blue
Pink and raspberry red [BTS 2004]
Pink and green (mostly pink) [Summer 2004, Spring 2005] - think Alpha Kappa Alpha
Pink and gray [Late 2004]
Pink and black (mostly pink)
Red and black [Summer 2003]
Orange and green
Orange and royal blue [Summer 2004]
Yellow and green [Summer 2004; not the first time]
Yellow and purple [Spring 2003]
Green and pink (mostly green) [Spring 2005]
Carolina blue and yellow
Blue and red [Summer 2003]
Navy and amber
Fuchsia and green [Spring 2005]
Purple and gold
Purple and lavender [Summer 2003]
Gray and blue [2006]
Gray and yellow
Rock gray and "green flash" [Fall 2005]
Light gray and blue [Fall 2005]

User-made Special (there are other ones...)
Varvatos Peace Sign [Fall 2005]
White and "Jet Blue" Zig-Zags [Spring 1999]
Zebra stripes (glow-in-the-dark)
---
---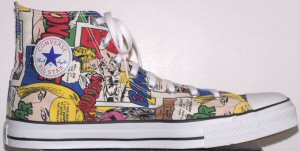 The comic includes such inspiring lines as "I love Converse." (Well, Nike loved them enough to adopt them as one of their divisions.)

---
---
---
---
---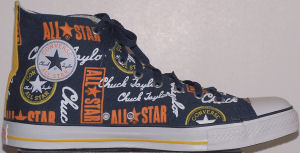 ---
---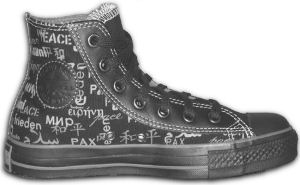 ---
---
---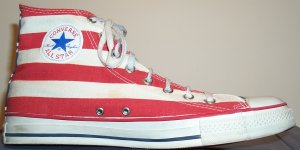 ---
---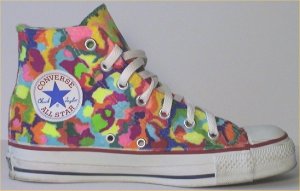 One of my many readers, Susan, sent me this picture. Her "darling husband" made her these Chucks with a little elbow grease and about twenty permanent markers.

---

Back to Charlie's "CHUCK" Page!


Back to the top of Charlie's Sneaker Pages!
Last Updated: 19 February 2017
---
Search for more shoes:
---
Click here to send E-mail to Charlie.
---
Charlie's Sneaker Pages copyright 1995-2019 by Charles L. Perrin.
READERS PLEASE NOTE: Names of athletic shoe manufacturers, shoe styles, and technologies may be trademarked by the manufacturers. Charlie's Sneaker Pages uses these names solely to describe the shoes with the same familiar nomenclature used by the manufacturer and recognized by the reader.