My female teammates and their sneakers
Melanie, one of my former Space Station teammates, looked at my World Wide Web site when I first started working on this Web site. She had a complaint. "Charlie, all your pictures are of GUY shoes!" I responded with, "But haven't you worn your black Chucks into work?" Melanie and others then gave me some bona fide "GAL shoes" to add to my picture collection.
---
Melanie insists: "But Chucks are GUY shoes!"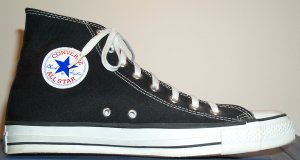 Melanie has her basic black guy shoes...

Melanie also has a pair in the "Planet Hollywood®" pattern.
---
What about JACK?

Yes, another classic Converse selection.
---
This is a gal shoe (at least for most)...

Keds advertises with the slogan "Ladies First Since 1916." But they do have some in guy sizes that look like this!
---
Time to Glow doing Aerobics!

Melanie loaned me her new Nike Max Pulse aerobic shoes to scan. The first time I saw these, I looked at them and said "These look like Moon Boots." And the Moon Boots were $115 in 1995, and that was a lot back then for a pair of athletic shoes.

Melanie wore out her earlier "Moon Boots." These were her 1998 Nike Air Max aerobics shoes. The AIR configuration ("Max Air" in the back, "Zoom Air" in the front) is the same as the Nike Air CB-34 basketball shoe.

If your budget won't go for a pair of "Moon Boots", you used to be able to get a pair of Nike 2010 Plus aerobic shoes. These little gems were a bargain at under $100!
---

Back to the top of Charlie's Sneaker Pages!
Last Updated: 16 February 2017
---
Search for more shoes:
---
Click here to send E-mail to Charlie.
---
Charlie's Sneaker Pages copyright 1995-2021 by Charles L. Perrin.
READERS PLEASE NOTE: Names of athletic shoe manufacturers, shoe styles, and technologies may be trademarked by the manufacturers. Charlie's Sneaker Pages uses these names solely to describe the shoes with the same familiar nomenclature used by the manufacturer and recognized by the reader.