Memories - Reebok Freestyle
---
I saw my first pair of Reebok athletic shoes in 1985.

Terri, a former female co-worker, had a pair of baby blue low-top Reebok Freestyle sneakers.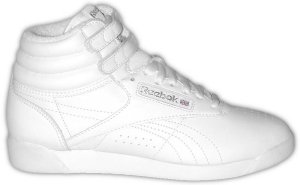 My first thought was that they were cleanly styled and "cute looking."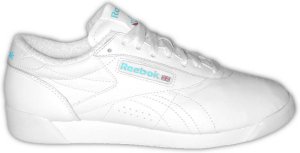 It's been quite a while, and I still like the Freestyle a lot! So do a lot of the gals!

Reebok also brought out similar low-top and high-top shoes for the guys under the model name "Ex-O-Fit." Around 2002, Reebok came out with the Reebok Exertion (for men) and Reebok Freedom (for women), updated designs with better cushioning features. Look here for a detailed comparison of the designs.
By the way, Terri quit being a software weenie a while back. She started her own custom clothing business, Pumpers Dancewear. Give her Website a visit if you need something to go with your favorite pair of sneakers!
---

Back to the top of Charlie's Sneaker Pages!
Last Updated: 22 February 2017
---
Search for more shoes:
---
Click here to send E-mail to Charlie.
---
Charlie's Sneaker Pages copyright 1995-2021 by Charles L. Perrin.
READERS PLEASE NOTE: Names of athletic shoe manufacturers, shoe styles, and technologies may be trademarked by the manufacturers. Charlie's Sneaker Pages uses these names solely to describe the shoes with the same familiar nomenclature used by the manufacturer and recognized by the reader.