Memories - PRO-Keds Two-Stripe Sneakers
---

I remember that before my last semester of college in 1977, I wanted some new sneakers. Well, I got some PRO-Keds "Royal Plus Hi-Cut" suede sneakers; dark blue with white stripes. I remember that the Nike Blazer was also available with the same color scheme, but I didn't get them. As I remember, they seemed too soft!


Here's a very similar model, but this is in white mesh with blue stripes.


Here's a slightly different model, still featuring two stripes: white leather with green stripes. This model also had a green outsole. Hopefully, it didn't leave green marks on Mom's kitchen, Coach's basketball court, etc., etc...


Finally, here's the advertising copy that Uniroyal used for a 1976 advertisement for the "Royal Plus" model. Not only did Nate Archibald endorse and wear this style, so did the late Pete Maravich.

---
2003 Reissues...
Finally, PRO-Keds reissued three high-top colors: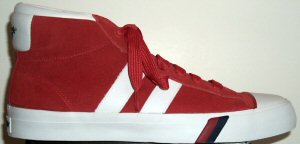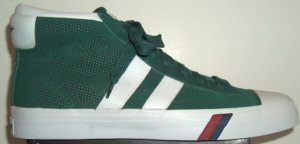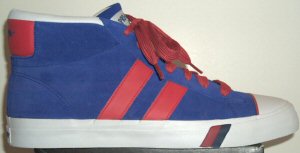 They also reissued several low-top colors, including:
---

Back to the top of Charlie's Sneaker Pages!
Last Updated: 10 December 2018
---
Search for more shoes:
---
Click here to send E-mail to Charlie.
---
Charlie's Sneaker Pages copyright 1995-2021 by Charles L. Perrin.
READERS PLEASE NOTE: Names of athletic shoe manufacturers, shoe styles, and technologies may be trademarked by the manufacturers. Charlie's Sneaker Pages uses these names solely to describe the shoes with the same familiar nomenclature used by the manufacturer and recognized by the reader.