Memories - adidas Rod Laver
---

Rod (Rodney George) Laver was an Australian tennis pro of the 1960's. Like Stan Smith, an American tennis player around the same era, adidas gave him the honors of a namesake shoe.


However, the Rod Laver shoe is standard equipment for a sport not yet invented when Rod was a tennis star. Many freestyle footbag players prefer the Rod Laver and its smooth sides of nylon mesh. Their requests were instrumental in bringing the Rod Laver shoe out of retirement and back into shoe stores. Note that the Rod Laver does not have any side stripes.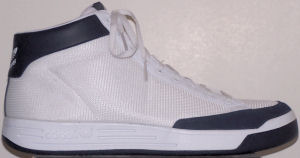 In 2005, adidas introduced a mid-top version of the Rod Laver shoe.

---

Back to the top of Charlie's Sneaker Pages!
Last Updated: 23 February 2017
---
Search for more shoes:
---
Click here to send E-mail to Charlie.
---
Charlie's Sneaker Pages copyright 1995-2021 by Charles L. Perrin.
READERS PLEASE NOTE: Names of athletic shoe manufacturers, shoe styles, and technologies may be trademarked by the manufacturers. Charlie's Sneaker Pages uses these names solely to describe the shoes with the same familiar nomenclature used by the manufacturer and recognized by the reader.