Memories - adidas Stan Smith
---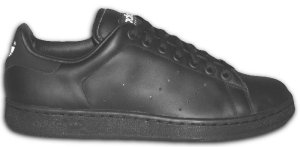 Stan (Stanley Roger) Smith was an American tennis pro of the early 1960's. He was at the peak of his career as Australian Rod Laver was starting to fade away.

Both of these tennis professionals had adidas shoes named after them. The Stan Smith, probably because of its clean, understated design, has remained a consistent seller for decades.

Usually, adidas shoes have external stripes attached to the shoe. The Stan Smith has no external stripes. Instead, the adidas stripes of the Stan Smith are rows of perforations through the leather upper. Some versions of the Nike Cortez (and some other Nike styles) used the same technique to outline the SWOOSH.

Another interesting shoe is the Stan Smith in suede. No external stripes, no perforations, and a Trefoil on the side.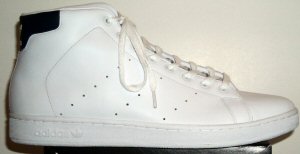 adidas has also come out with a Stan Smith high-top version in limited quantities. (There is also an all-black version of this shoe.)
There are a number of color combinations for the Stan Smith:
Usually available:

All-black leather
White leather, colored trim:

Limited edition versions (that people have either mentioned or asked about):

Black canvas
Brown leather
Brown suede
Red leather
Green leather
Blue nubuck
Gray nubuck
White leather, colored trim:

Silver [2002 reissue]
Brown
Red [2002 reissue]
Red and lemon yellow
Yellow

White leather, Velcro closure, colored trim ("Stan Smith Comfort"):
---
Fifteen years after Stan Smith was at his prime...
Nike "bad boy" John McEnroe was beginning his stormy tennis career. One time, John was nursing the lingering effects of an ankle sprain and appeared on court (and on TV) in a pair of gray Nike high-top racquetball shoes. Up to that appearance, Nike had sold only 5000 pairs of them; a year later, thanks to John McEnroe, Nike had sold a million pairs of the same shoe.
---
The Stan Smith, updated for the year 2000 and beyond...
In 1998, adidas created an update of the classic Stan Smith tennis sneaker for today's more aggressive style of play. The "Stan Smith Millenium" has a updated outsole and upper, while maintaining many of the same design features. For example, the design kept the original rows of perforations.
One significant difference that I noted between the classic Stan Smith and the Stan Smith Millennium is that the Millennium seems considerably wider. If the Stan Smith fits well, the Millennium will be too loose. Of course, the opposite applies.
In 1998, adidas also created a "Millennium" updated version of the classic Superstar and Promodel basketball shoes.
---

Back to the top of Charlie's Sneaker Pages!
Last Updated: 23 February 2017
---
Search for more shoes:
---
Click here to send E-mail to Charlie.
---
Charlie's Sneaker Pages copyright 1995-2021 by Charles L. Perrin.
READERS PLEASE NOTE: Names of athletic shoe manufacturers, shoe styles, and technologies may be trademarked by the manufacturers. Charlie's Sneaker Pages uses these names solely to describe the shoes with the same familiar nomenclature used by the manufacturer and recognized by the reader.