Memories - adidas SL76
---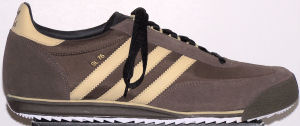 The adidas SL76 is associated with the 1976 Olympics. It was similar to the earlier SL72 except it had an enhanced lacing system.

The adidas SL76, in the blue and white colorway, was seen on the ABC television show "Starsky and Hutch" on the feet of Detective Dave Starsky (Paul Michael Glaser). Adidas reissued and advertised these shoes as part of their adidas Originals line in 2004.
Known colorways include:
Coffee/saraha (pictured above in the first picture)
Green/yellow (the colorway most frequently seen)
Blue/yellow
Blue/white ("Starsky & Hutch")
---

Back to the top of Charlie's Sneaker Pages!
Last Updated: 1 July 2017
---
Search for more shoes:
---
Click here to send E-mail to Charlie.
---
Charlie's Sneaker Pages copyright 1995-2021 by Charles L. Perrin.
READERS PLEASE NOTE: Names of athletic shoe manufacturers, shoe styles, and technologies may be trademarked by the manufacturers. Charlie's Sneaker Pages uses these names solely to describe the shoes with the same familiar nomenclature used by the manufacturer and recognized by the reader.