Strap those feet in so they don't get loose!
The athletic shoe industry, over the years, has dabbled around with the concept of adding one or more strap(s) to improve the biomechanical properties of the shoe.
A strap around the ankle typically improves stability. A strap further down on the foot helps keep the foot in the shoe, similar to the practice of spatting performed by many football players.
---
The most popular sneaker with straps?

While it may have not been the first sneaker with a strap, I would be willing to say that the Reebok Freestyle and Ex-O-Fit are the most popular sneakers that have straps.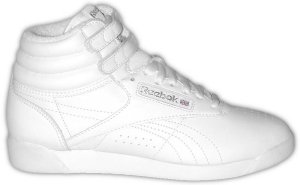 Now, this is interesting! The gals get two straps on the Freestyle, while the guys only get one on the Ex-O-Fit!

---
Some other examples of straps on sneakers: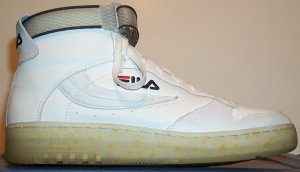 Fast flying FILA sneakers need to be under control. So, FILA added a removable strap to keep the pilot in the cockpit!


Sometimes, Michael Jordan had his feet strapped in for the ride. Sometimes, he didn't. The Air Jordan 8 is the model (so far) with the most prominent strapping.


Some Nike football shoes, including the pictured Air Turf Pro Destroyer, feature a midfoot strap. The intent is to decrease the need for wrapping tape around the midfoot and covering up the SWOOSH.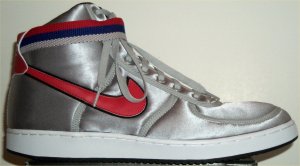 The Nike "Vandal" and "Vandal Supreme" basketball shoes feature a removable strap.


The Puma Sky 2 basketball sneaker is another example of a sneaker with straps. Note that it shares double straps with the Reebok Freestyle.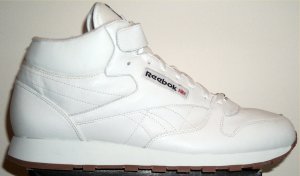 The Reebok Classic, originally a light-duty running shoe, has been updated to a mid-high version with straps.

---

Back to "Charlie's Sneaker Pages!"
Last Updated: 25 February 2017
---
Search for more shoes:
---
Click here to send E-mail to Charlie.
---
Charlie's Sneaker Pages copyright 1995-2021 by Charles L. Perrin.
READERS PLEASE NOTE: Names of athletic shoe manufacturers, shoe styles, and technologies may be trademarked by the manufacturers. Charlie's Sneaker Pages uses these names solely to describe the shoes with the same familiar nomenclature used by the manufacturer and recognized by the reader.