Tommy Hilfiger sneakers
---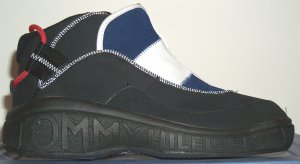 In the middle of 1996, there was an announcement that the fashion designer Tommy Hilfiger would be bringing out a line of casual footwear in early 1997.
Now that the line is out, most of them fit within the "sneaker" category of footwear. Some of them are traditional boat style and traditional white tennis sneakers with the Hilfiger logo. Local Houston area stores that have the Tommy Hilfiger line say that all of the models are selling well, but some of them have turned up at off-price stores.
In my opinion, the "Fly" model (pictured on this page) is the most interesting of the Tommy Hilfiger line. The combination of laces and a zipper break new ground, at least in the sneakers I've seen.

---

Back to the top of Charlie's Sneaker Pages!
Last Updated: 25 February 2017
---
Search for more shoes:
---
Click here to send E-mail to Charlie.
---
Charlie's Sneaker Pages copyright 1995-2021 by Charles L. Perrin.
READERS PLEASE NOTE: Names of athletic shoe manufacturers, shoe styles, and technologies may be trademarked by the manufacturers. Charlie's Sneaker Pages uses these names solely to describe the shoes with the same familiar nomenclature used by the manufacturer and recognized by the reader.