Tennis shoes... or so they're called
(even if they've never been worn at Wimbledon)
---
Sphairistike Sneakers by any other name?
British Major Walter Clopton Wingfield defined the rules of modern game of tennis in 1874. He called it "sphairistike" (Greek for "playing ball.") Major Wingfield converted the design of an earlier French game to one that could be played in an open field.
As to the word "tennis?" In the French game, the server announced "Tenez!" ("Look here!") and then served the ball.
---

In 1931, Montgomery Ward was calling these sneakers both "tennis shoes" and "speed shoes." Maybe they were "speedy tennis shoes?"

---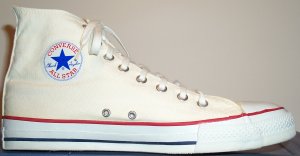 As in wrestling and basketball, the Converse "Chuck Taylor" All Star once had a following on the tennis court. My friend Bobby (who had a pair of early adidas Superstar basketball shoes) went on to college to play basketball. Well, he also played on the college tennis team, and I remember him seeing pictures of him cleaning up his opposition while wearing high-top Chucks.

---
Traditionally, tennis shoes are white and attract little attention. (Some professional tennis players, as we all know, love to thumb their noses at tradition.) Some frequently seen examples of this ideal:

The adidas Rod Laver was named after an Australian tennis pro of the 1960's. The shoe is still being sold.


The adidas Wilhelm Bungert was named after a German tennis pro of the 1960's. The shoe was reissued (at least in the United States) in 2005.


The adidas Stan Smith was named after an American tennis pro of the early 1970's. He was at the peak of his career as Rod Laver was fading away. The Stan Smith, like the Rod Laver, is still available for tennis players.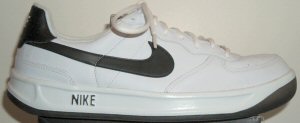 The Nike Ace 83 is a reissue based on what was the state of the art in tennis footwear in 1983.


The Puma GV Special was named after a one-time tennis player, Guillermo Vilas.


The Reebok Club Champion (also marketed as the Club C, apparently for those too humble or too unskilled to be a "champion") is one of their perennial best sellers. It looks very similar to the much earlier adidas Wilhelm Bungert (see above).


The Reebok Club C comes in blue trim for those who don't want green trim. It also comes in yellow trim (not pictured).


I personally tend to associate the classic Tretorn Nylite (Tretorn calls them "Nylite" in both canvas and leather) with the category of "women's sneakers," but I've seen some quite athletic men wearing them over the years!

---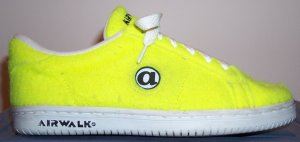 This is the Airwalk tennis "Jim Shoe." It's made out of neon yellow tennis ball felt. I have three specific observations about it:

It looks like nothing I have ever seen on the tennis court.
It looks like nothing I ever saw in the gym.
It looks like nothing I've ever seen on Jim.
---

Back to the top of Charlie's Sneaker Pages!
Last Updated: 25 February 2017
---
Search for more shoes:
---
Click here to send E-mail to Charlie.
---
Charlie's Sneaker Pages copyright 1995-2021 by Charles L. Perrin.
READERS PLEASE NOTE: Names of athletic shoe manufacturers, shoe styles, and technologies may be trademarked by the manufacturers. Charlie's Sneaker Pages uses these names solely to describe the shoes with the same familiar nomenclature used by the manufacturer and recognized by the reader.