One pair of sneakers (on a desert island)
---
My opinion:

I was thinking about "If I had to take only one pair of sneakers to take with me (let's say, to a desert island), what would I take?" It seems that I had a hard time deciding on two or three, but only one was easy. I'd have to take a pair of Converse Helium He:01 sneakers with me!
If you wonder: I've gone on vacation, taken other sneakers, but only wore these!
---
My former co-workers thought: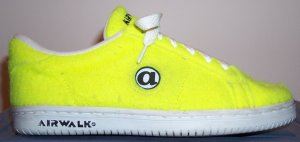 "If Charlie was stuck on a desert island, he should have the Airwalk Jim Tennis Ball shoes. They are bright and attract attention!"
---

Back to the top of Charlie's Sneaker Pages!
Last Updated: 13 February 2017
---
Search for more shoes:
---
Click here to send E-mail to Charlie.
---
Charlie's Sneaker Pages copyright 1995-2021 by Charles L. Perrin.
READERS PLEASE NOTE: Names of athletic shoe manufacturers, shoe styles, and technologies may be trademarked by the manufacturers. Charlie's Sneaker Pages uses these names solely to describe the shoes with the same familiar nomenclature used by the manufacturer and recognized by the reader.