Charlie's Commentary - Serious Shoes for Working Out
This section of Charlie's Commentary discusses his "serious shoes." (Some would quibble about the terminology "serious sneakers." I'm not fussy.)
---
The Great Athletic Shoe Debate - Mobility vs. Stability:
There are several distinct positions taken by athletic shoes in the "mobility versus stability" debate:
Low-tops: Great mobility, less stability.
Mid-tops: Doesn't provide the stability of a high-top. Compensates for it by failing to provide the mobility of a low-top.
High-tops: Great stability, less mobility.
Since the debate rages on in my head every time I go work out, I have at least one favorite in each category.
---
JORDAN Brand Air Jordan Trainer: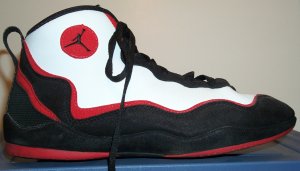 Put these light, responsive shoes on your feet, lace them up, and have at it! The JORDAN Brand "Air Jordan Trainer" was the real JORDAN Brand surprise, particularly for those expecting "Yet Another Basketball Shoe With Michael's Last Name." The Air Jordan Trainer bears more of a "fit and feel" resemblance to the (rarely seen) men's fitness Air Structure shoe, or even the Air Reversal wrestling shoe, than it does a basketball shoe. They're not designed to play basketball Just Like Mike, just work out Just Like Mike.)

---
Nike Air CB-34:

I like these Nike shoes a lot. They have a lot of shock absorption but they don't have the heavy feeling of many basketball shoes. My former co-worker Jim always made a face at them because they're Charles Barkley's shoes and he's no Barkley fan. I'm not certain Jim's figured out that Charles Barkley doesn't wear number 34 any more.

---
Nike Air Edge I Mid: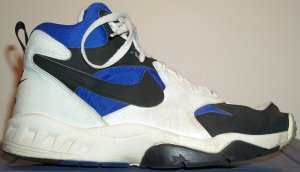 I've seen people who call these "high tops." In my opinion, they're 99% of the way to "being a high top."

---
New Balance 620:

I like these shoes. They are light and well-cushioned, but without the "walking on a wobbly rubber platform" sensation I get from some running shoes. The Air Max Triax used to be my favorite, but no more... the 620's are more comfortable!

---

Back to the top of Charlie's Sneaker Pages!
Last Updated: 20 July 2017
---
Search for more shoes:
---
Click here to send E-mail to Charlie.
---
Charlie's Sneaker Pages copyright 1995-2021 by Charles L. Perrin.
READERS PLEASE NOTE: Names of athletic shoe manufacturers, shoe styles, and technologies may be trademarked by the manufacturers. Charlie's Sneaker Pages uses these names solely to describe the shoes with the same familiar nomenclature used by the manufacturer and recognized by the reader.