My former male teammates and their sneakers
After Melanie got her sneakers on the World Wide Web, certain of my former male teammates began demanding equal time for their sneakers on the Internet. Who am I to refuse?
---
Probably the favorite in my former team:

Several of my former teammates had various running and cross-training shoes from the New Balance 600 series: models 600, 606, 607, 608, 620, 648, 650, 655, 656, 657, 658, and 659 come to mind. Several people had New Balance 606's, but I have to admit... I'm the only one with a brown pair!

---
[Space Station data integrator and paper shuffler.]

Bill found that he needed a less cushy running shoe than a pair of Nike Air Max. He got a pair of ASICS GEL Kayano shoes to keep things stiff and stable.

Bill found that running was too hard on him and he had to have some foot surgery. For a while, he was down to wearing a pair of Nike Air Deschütz sport sandals around work!
---
Gary [the Software Designer]
[His sneakers were one of the few things older than the Space Station computers!]

He's had these Nike All Court sneakers for a good long while.

Gary told me a story about these Nike All Court sneakers. It seems they were literally bought for use as "sandshoes." He won an employee contest when he was working on the Space Shuttle in 1982. His prize was a trip to Hawaii.
---
Gary [the Version Describer]
[Chucks and Configurations are his specialties.]

Before he went to management, Gary was our "Engineering Configuration Management" person. That means he got to keep track of all our software pieces. He had several sneakers in his collection, including some Converse "Chuck Taylor" All-Star sneakers in black and white. (Gary professed no love whatsoever for high-top sneakers.)
---
[Wrote the C code that glued all the various things together here on the Earth.]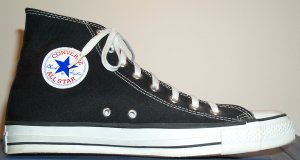 Jack played high school basketball back in the days when Chucks reigned supreme. Over the years he's been on Space Station he has had several pairs of sneakers he wears into work, including pairs of black Converse "Chuck Taylor" All-Star low-top and high-top sneakers, a pair of beat-up white and Carolina blue adidas Superstar, a pair of Nike, and a pair of ASICS. Jack, like Charlie, is now retired.
---
[Mac addict. Learned Microsoft Windows for work.]
Jim is from Oregon, the home of the Umpqua and the Deschutes (two rivers that Nike used for naming their sport sandals). So, it would be appropriate that Jim is a Nike fanatic, and he is.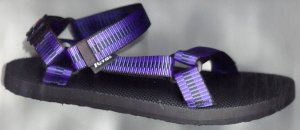 Jim is not only a Mac addict, but also a Pepsi fanatic. (Being much less of a Yankee than Jim is, I prefer a Coke any day.) Jim is so much of a Pepsi fanatic that (with some help from throwing some pool parties) that he got a pair of "Pepsi Stuff" Teva sport sandals!
---
[Generation X]
I should point out some things about Young Stevie:
He keeps complaining almost everyone in our organization has more age, experience, and accumulated wisdom. Therefore, several of us call Stephen "Young Stevie" as a joke.
Young Stevie was born in Switzerland; that means he can pronounce a number of terms whose European pronunciation is downright impossible for American tongues. (Such as the pronunciation of the name of the German chemical firm Hoechst.)
He has this irrational belief in extraterrestrial automobile manufacturing. Young Stevie had a new car. When he got it, he told me it came from Saturn. After checking with the experts at NASA, they tell me there are no life forms on Saturn capable of making automobiles. I did a little research and found his car really came from Tennessee.
Young Stevie wear sneakers to work? Only on the weekend! (He was one of the few people in our building that wasn't in management who wore a shirt and tie to work.) He has a pair of dirty New Balance 999 running shoes.
Young Stevie is the typical penny-pinching engineer. I tell him he ought to buy a pair of Converse "Chuck Taylor" All-Star sneakers so he would have some a pair of true classics. He tells me he's too broke.
One of my writers told me (indignantly): "That guy Steve is either blind or a recluse." Just because he asked me "What are Chucks?"
IMHO, Young Stevie is "Dilbert incarnate." (I'm just afraid when he grows up, he'll become The Evil HR Director.)
Young Stevie has an even younger brother who performs in a rock band... wearing black high-top Chucks, of course!

Young Stevie has a pair of New Balance 999 running shoes. They have been everywhere from SA (Southern Alabama) to the SA (Swiss Alps). He told me they've also been to England and Mexico.
---

Back to the top of Charlie's Sneaker Pages!
Last Updated: 15 February 2017
---
Search for more shoes:
---
Click here to send E-mail to Charlie.
---
Charlie's Sneaker Pages copyright 1995-2023 by Charles L. Perrin.
READERS PLEASE NOTE: Names of athletic shoe manufacturers, shoe styles, and technologies may be trademarked by the manufacturers. Charlie's Sneaker Pages uses these names solely to describe the shoes with the same familiar nomenclature used by the manufacturer and recognized by the reader.