Chucks - Ankle Patches and Heel Patches
Over the years, Chucks have had different designs for the ankle patches and the heel patches.
---

This is a "Chuck" ankle patch of unknown (but "earlier than Charlie!") vintage.


This is a "Chuck" ankle patch from the 1950s.


The "Chuck" ankle patch, on most versions, has had this design since I (Charlie) was in junior high in the 1960s.

---

This is the heel patch Converse used on Chucks in the 1950s.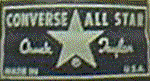 This is the heel patch when "Chucks" were a "must have" for the Baby Boom generation..


From the 1980's until 2001, All Star production received this heel patch.


Certain canvas patterned shoes (including Stars and Bars and Flags of All Nations) had a heel patch with red printing.


The monochrome black model has a 3-D embossed black heel patch based on the vintage heel patch.


Converse began using this heel patch when production switched to Indonesia,.


Certain models, however, use this black heel patch.

---

Back to Charlie's "Chuck" Page


Back to the top of Charlie's Sneaker Pages!
Last Updated: 18 February 2017
---
Search for more shoes:
---
Click here to send E-mail to Charlie.
---
Charlie's Sneaker Pages copyright 1995-2019 by Charles L. Perrin.
READERS PLEASE NOTE: Names of athletic shoe manufacturers, shoe styles, and technologies may be trademarked by the manufacturers. Charlie's Sneaker Pages uses these names solely to describe the shoes with the same familiar nomenclature used by the manufacturer and recognized by the reader.