Converse All Star - Found in the Heavy Load Zone!
---
One of the hundreds of thousands of readers of my Web site, Jason, remarked with interest about the pictures of Converse "Chuck Taylor" All Star sneakers being used for all types of athletic events.
Jason says his Converse "Chuck Taylor" All Star sneakers work better than the high-priced weightlifting shoes he used to wear. In fact, he sent me a picture showing him on the way to his second place finish in the 1997 AAU Nationals!

There is only one possible irony I see here: Jason is active in the California branch of the American Drug Free Powerlifting Association. However, while powerlifting, he wears what some Texas police departments call "drug shoes." I can only say that this highlights the versatility that Converse builds into every pair of "Chuck Taylor" All Star sneakers.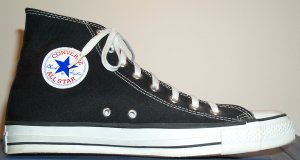 Picture of Converse "Chuck Taylor" Powerlifting Shoes.

---

Back to the top of Charlie's Sneaker Pages!
Last Updated: 19 February 2017
---
Search for more shoes:
---
Click here to send E-mail to Charlie.
---
Charlie's Sneaker Pages copyright 1995-2021 by Charles L. Perrin.
READERS PLEASE NOTE: Names of athletic shoe manufacturers, shoe styles, and technologies may be trademarked by the manufacturers. Charlie's Sneaker Pages uses these names solely to describe the shoes with the same familiar nomenclature used by the manufacturer and recognized by the reader.