Drugs and Sneakers
---
Proponents of hemp fabric state that it lasts twice as long as cotton, and it can be grown efficiently with few pesticides. Hemp cloth apparel is legal to own in the United States, as they contain no active drug.
Hemp cultivation has been illegal in the United States since 1937. All hemp fabric sold in the United States is imported. During World War II, some farmers were given special permits allowing them to grow hemp. The United States Government even released a propaganda film entitled "Hemp for Victory."
---

Former Federal "drug czar" Lee P. Brown accused adidas of marketing the "Hemp" sneaker to "capitalize on the drug culture." Because of the controversy, adidas renamed the "Hemp" as the "Gazelle Natural" as it is the Gazelle design with a hemp cloth upper.
---

These sneakers have the rather interesting name "All Star High Hemp."
---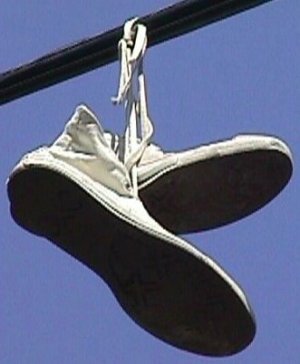 I was watching my evening news on KTRK-TV in Houston (Harris County, Texas, USA). They were interviewing a police officer in the Houston suburb of Pasadena. As part of the report, it was mentioned that one of the gangs in the Pasadena area has an interesting use for a pair of high-top Converse "Chuck Taylor" All Star sneakers. According to the Pasadena Police, the presence of a pair of high-top Chucks (which the officer being interviewed referred to as "drug shoes") hanging from a utility line indicates that drug dealers are active in the area. They even yanked down a pair live on TV.
I had a reader report the same thing happens in Jaffa, Israel.
---

Back to the top of Charlie's Sneaker Pages!
Last Updated: 11 June 2017
---
Search for more shoes:
---
Click here to send E-mail to Charlie.
---
Charlie's Sneaker Pages copyright 1995-2021 by Charles L. Perrin.
READERS PLEASE NOTE: Names of athletic shoe manufacturers, shoe styles, and technologies may be trademarked by the manufacturers. Charlie's Sneaker Pages uses these names solely to describe the shoes with the same familiar nomenclature used by the manufacturer and recognized by the reader.