Memories - adidas Gazelle
---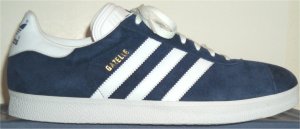 The adidas Gazelle was a new model in 1968. Originally, they were intended for athletic training. Some writers have sent me E-mail, insisting that the Gazelle was a running shoe because they wore them for track practice; I have been told they were marketed as track training shoes. Of course, what is a gazelle? It's a four-legged animal known for its exceptional speed!

Comparing the Gazelle to adidas track training shoes of the same era (such as the Country and SL-72), the Gazelle simply does not look to my eye like a running shoe. I think they would be better suited for playing tennis or other court sports. Maybe the thought was that the runners that trained in the Gazelle would go really fast in a pair of competitive running shoes. My high school friend Stephen wore high-top Chucks for track practice, and I remember he went really fast in his running shoes...
Later on, the Gazelle became popular for indoor soccer, but the shoe predated the popularity of indoor soccer. In the early 1990s, the Gazelle gained popularity as an all-around general purpose casual sneaker, along with the so-called "Shell Toes" models (Promodel and Superstar).

In the late 1990's, adidas issued a controversial "Gazelle Natural" version (as shown to the left) made from natural hemp cloth. Even the Clinton Administration objected...

---

Back to the top of Charlie's Sneaker Pages!
Last Updated: 22 February 2017
---
Search for more shoes:
---
Click here to send E-mail to Charlie.
---
Charlie's Sneaker Pages copyright 1995-2021 by Charles L. Perrin.
READERS PLEASE NOTE: Names of athletic shoe manufacturers, shoe styles, and technologies may be trademarked by the manufacturers. Charlie's Sneaker Pages uses these names solely to describe the shoes with the same familiar nomenclature used by the manufacturer and recognized by the reader.