High-Top Tops
You're probably wondering, "What are High-Top Tops?" Well, after some observation of high-top athletic shoes, I've divided them into four distinct classes.
---
Peg-Top: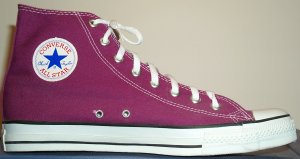 The top of the classic Converse "Chuck Taylor" All Star basketball shoe rises to a peak at the back of the shoe. There is a Converse informational flyer ("Eleven Ways Better", point #4) that calls this projection a "peg-top."
---
Flat-Top:

While the "Chuck Taylor" All Star took the "peg-top" approach, PRO-Keds had their own design. The top of the PRO-Keds shoe went straight from front to back, neither having a pronounced "peg-top" nor a downward slope towards the heel.
---
Sloping:

The Reebok BB4600 basketball shoe rises to a peak at the front. Then, the shoe top has a definite downward slope from the front to the back.
---
Notched:

Recent Nike high-top basketball shoes (as evidenced by the Nike Air Strong High pictured to the left side) have a notch in the top at the back of the shoe. This is not the most dramatic case of notching I'm aware of. Converse produced a line of shoes in the middle to late 1980's (with the letters "ERX" in the style name) that had very deep notches at the back of the shoe top. They were definitely high-tops along the front and sides, but they were like low-tops along the back.
---
The significance of all this?
It looks like the biomechanical experts are having some effect in the design of athletic shoes. The notched designs allow free movement back and forth (something the foot can handle, and needs for mobility) while restraining movement side to side (something that can get painful if it gets carried to extremes!).
---

Back to the top of Charlie's Sneaker Pages!
Last Updated: 21 July 2017
---
Search for more shoes:
---
Click here to send E-mail to Charlie.
---
Charlie's Sneaker Pages copyright 1995-2021 by Charles L. Perrin.
READERS PLEASE NOTE: Names of athletic shoe manufacturers, shoe styles, and technologies may be trademarked by the manufacturers. Charlie's Sneaker Pages uses these names solely to describe the shoes with the same familiar nomenclature used by the manufacturer and recognized by the reader.