Memories - Converse All Star II
(and similar models)
---
Converse All Star II (Late 1970s):
During some "house cleaning and sorting," I was looking at stuff in a Converse "Chuck Taylor" All Star box. On second observation, I noted that the box originally contained a "Converse All Star II." After a little head scratching, I remembered that I bought the shoes around 1979. The box stated Converse was a division of Eltra (which was the case from 1972 to 1979). I can remember I was working in Wichita, Sedgwick County, Kansas at the time... which means it was after 1977. These pictures are courtesy of Ted, one of my many readers... I no longer have the shoes, only the box! Mine were blue while Ted's are red.

Converse did away with the traditional logo patch in this shoe, along with the Buick Ventiports on the side. Instead of these traditional design features, they used the Converse "horizontal chevron and star" design. Converse also enlarged the toe box in comparison to a traditional All Star.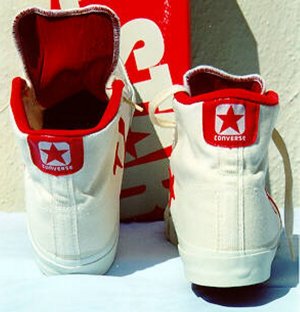 Converse padded the ankle collar and tongue in the All Star II. The inside had no loose lining. While the shoe had a label at the top of the heel, the traditional "Chuck Taylor" heel patch disappeared.
Converse used the same outsole as the "Chuck Taylor" All Star. Looking at my old box and what Ted told me about his box, Converse made at least the following colors:
Red (Stock Number 1-9264)
Blue (Stock Number 1-9269)
---
Converse Star Player Mid (2004):

In 2004, Converse introduced a model called the "Star Player Mid" (despite the term "Mid," it is as high as a high-top Chuck; I can only guess that the term "High" is no longer politically correct on sneaker boxes) that shares a number of design similarities with the All Star II.
---
Converse "Chuck Taylor" All Star II (2015-2017)
Converse came out with an updated version of the All Star in 2015, which was very similar to the classic canvas Chuck, but it had small (and not so small!) improvements throughout. I've got several of them (some didn't survive the flooding from Hurricane Harvey) and absolutely love them. They have a thicker tongue that resists bunching up, and a cushy Nike Lunarlon insole. I've got a digital camera, but I've not yet taken pictures of them. Something to do in my retirement other than eat, sleep, clean the house, donate platelets, read Facebook and GasBuddy, pay bills, update this Web site, research genealogy, and watch the news!
---

Back to the top of Charlie's Sneaker Pages!
Last Updated: 31 December 2018
---
Search for more shoes:
---
Click here to send E-mail to Charlie.
---
Charlie's Sneaker Pages copyright 1995-2021 by Charles L. Perrin.
READERS PLEASE NOTE: Names of athletic shoe manufacturers, shoe styles, and technologies may be trademarked by the manufacturers. Charlie's Sneaker Pages uses these names solely to describe the shoes with the same familiar nomenclature used by the manufacturer and recognized by the reader.