Memories - Puma "Clyde"
---
Clyde... the glide... gliding and sliding in colorful suede!

I was in college when Puma began getting my attention in the sneaker market. Walt Frazier of the New York Knicks (his nickname: "Clyde") grinned at prospective customers from the end of the box.

However, I would have preferred to call these sneakers "Slide." As I have pointed out in my section on sneaker outsoles, the Puma "Clyde" suede, "Basket" leather, (and a number of other models) used a square grid pattern. These are just not as slip-resistant as some of the other sneaker designs.

In one case, this was definitely a "felony shoe." In Houston (Harris County, Texas, USA), in 1994, a store security guard was fatally shot while apprehending a customer caught in the act of shoplifting a new pair of Puma suede sneakers. As I remember the news reports, the culprit got a lifetime trip to Huntsville, but escaped the executioner.
Colors that were produced at one time or another include the following (sorted by body color/formstrip color):
Black

Natural suede
Red
Royal blue
Purple
Silver

Light tan
Brown
Red

Natural suede
Black
Monochromatic red

Gold
Orange
Green
Blue

Natural suede
Red
Orange
Yellow
Monochromatic blue
Gray

Gunmetal gray
40% gray
In Australia, this design is sometimes called the "Puma States."
---
Later on... a high-top version:

This is what Puma calls the "Suede Mid" but it is definitely a high-top (they're just as high as a pair of Chucks) measured on the inside.
---
Puma "Clyde" in 2005: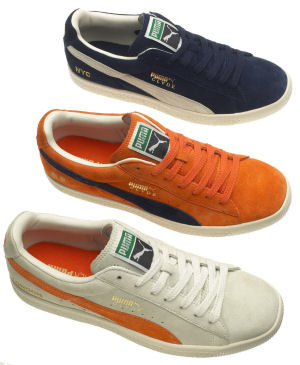 Puma announced that they will reissue the Clyde (complete with the "Clyde" name foil-stamped on the side like they were way back when) in limited-edition versions in July 2005. These will have extremely limited distribution: 1000 total pairs, 40 retailers worldwide. Puma was expected to issue additional colorways in wider distribution during October 2005 and December 2005.
---

Back to the top of Charlie's Sneaker Pages!
Last Updated: 21 February 2017
---
Search for more shoes:
---
Click here to send E-mail to Charlie.
---
Charlie's Sneaker Pages copyright 1995-2021 by Charles L. Perrin.
READERS PLEASE NOTE: Names of athletic shoe manufacturers, shoe styles, and technologies may be trademarked by the manufacturers. Charlie's Sneaker Pages uses these names solely to describe the shoes with the same familiar nomenclature used by the manufacturer and recognized by the reader.