Various Sneakers with the PF Flyers Name
There seems to be interest in the PF Flyers brand name by my readers, usually spurred when some cable TV network re-runs "The Sandlot." Unfortunately for those who long for PF Flyers, they have not been made (in the classic form) in decades.
---
The meaning of the "PF" in PF Flyers:
As shown in the picture below, the "PF" stood for "Posture Foundation."
---
Vintage PF Flyers High-Tops:

This picture (originally a small part of a store display, but lacking the brand name) was sent to me by one of my readers who asked me, "Was this an ad for Chucks or PRO-Keds?" I had to inform him, "Neither... PF Flyers!"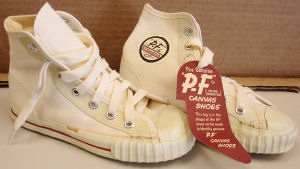 This picture of vintage PF Flyers high-tops was sent to me; I don't know whether they are older or newer than the store display.

---
Vintage PF Flyers Deck Shoes:

This advertisement shows a pair of PF Flyers deck shoes, so the brand was not merely plain canvas low-tops and high-tops.

---
Vintage PF Flyers in the United States Army:

Here is a picture of some PF Flyers made for the United States Army. The man who sent me the picture told me they are available from time to time as Army surplus, complete with the original packaging.

---
Recent PF Flyers:

This is an example of a recent PF Flyers reissue. They call this colorway the "Sandlot Edition."


One "feature" worth mentioning: the ankle patch in the reissues are on the OUTSIDE of the shoe!

---
PF Flyers Brand Transitions:
Over the years, the "PF Flyers" brand name has gotten passed around. Here are some transitions I know of:
PF Flyers were made by Hood in 1962.
Goodrich later acquires the rights to PF Flyers from Hood.
Converse bought the Goodrich athletic shoe brands in 1971.
Converse later spun off the PF Flyers brand to settle a Department of Justice complaint they were monopolizing the sneaker market of that day... Back then Nike was a tiny company, and Reebok was still in the United Kingdom. The Jack Purcell was also a Goodrich shoe, but Converse got to keep Chuck and Jack together.
LJO, Inc. owned the PF Flyers brand name from 1991 to 2001. They indeed made some PF Flyers shoes, but they looked like a canvas version of the Reebok Freestyle... contemporary, not retro.
February 2001: New Balance acquires rights to the PF Flyers brand.
March 2003: New PF Flyers shoes are heading out to limited distribution!
---

Back to the top of Charlie's Sneaker Pages!
Last Updated: 29 May 2017
---
Search for more shoes:
---
Click here to send E-mail to Charlie.
---
Charlie's Sneaker Pages copyright 1995-2021 by Charles L. Perrin.
READERS PLEASE NOTE: Names of athletic shoe manufacturers, shoe styles, and technologies may be trademarked by the manufacturers. Charlie's Sneaker Pages uses these names solely to describe the shoes with the same familiar nomenclature used by the manufacturer and recognized by the reader.