What side of the sneaker gets the logo?
Many athletic shoes look the same on both sides. However, some shoes have the manufacturer's logo on one side or the other. And they can't agree on what side gets the logo! I have found several examples...
---
adidas - Logo on the OUTSIDE:


The adidas designers not only placed their brand name on the outside, but also the model name. This practice has been followed reasonably consistently from the late 1960's adidas track training shoes to the middle 1990's Samba Super-Suede shoe.

---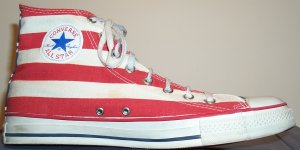 Converse, on their famous "Chuck Taylor" All Star (but not the All Star 2000) put the logo on the inside.


The Jewel All Star, however, broke with Converse tradition and placed the logo on the outside.


To make certain the logo gets seen, the Converse All Star 2000 shows up with the All Star logo on both sides.

---
Fila - Logo on the OUTSIDE: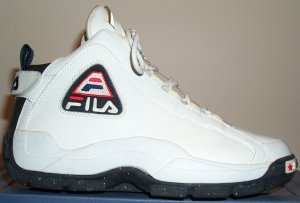 Fila, on their Grant Hill line of basketball shoes, put a multi-colored logo on the outside.


The inside of the same shoe also has a Fila logo, but it is monochromatic white (and, therefore, not as visible as the outside).

---
Puma - Logo on the OUTSIDE:

Puma styles generally put their logo, model name, and symbol on the outside.

---
Reebok - Logo on the OUTSIDE:

Reebok, on their popular Freestyle and Ex-O-Fit shoes, puts the logo on the outside.

---
Nike - Logo on BOTH SIDES: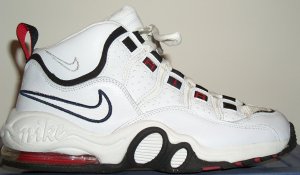 Nike in the Air Super CB "Charles Barkley" series, placed the most prominent SWOOSH on the outside. When the SWOOSH layout is asymmetrical from side to side, the outside gets the most prominent treatment.


The inside of the same shoe also has two SWOOSH logo designs, but they are less bold than the one on the outside. However, in a majority of Nike shoes, the SWOOSH is symmetrical on both sides.

---

Back to the top of Charlie's Sneaker Pages!
Last Updated: 21 February 2017
---
Search for more shoes:
---
Click here to send E-mail to Charlie.
---
Charlie's Sneaker Pages copyright 1995-2021 by Charles L. Perrin.
READERS PLEASE NOTE: Names of athletic shoe manufacturers, shoe styles, and technologies may be trademarked by the manufacturers. Charlie's Sneaker Pages uses these names solely to describe the shoes with the same familiar nomenclature used by the manufacturer and recognized by the reader.