Memories - Chuck and COACH
In the 1970's, Converse had a line of athletic shoes designated by the sub-brand "COACH." Many were lower-priced versions of their flagship models, as can be seen below in the comparison of the "Chuck Taylor" All Star with its COACH equivalent.
---
Comparing the sides: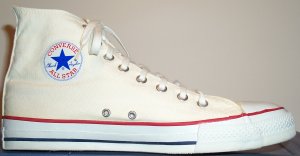 They are quite similar on the sides. The major difference is the ankle patch. Both shoes share a flat-cut rubber toe guard, Buick Ventiports, eight eyelets, and a "peg-top" upper.
---
Comparing the sole and heel: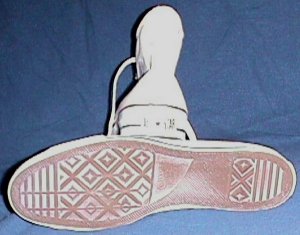 The major difference in the heel view is the heel patch. Both shoes share a red color band at the top, followed by a blue one in the middle. The Converse "Chuck Taylor" All Star has an "ALL STAR" heel patch (black in the vintage version) while the COACH has a "CONVERSE ATHLETIC FOOTWEAR" heel patch. The sole of the COACH (both this one and the low-top suede model) has a star motif; both models have the size stamped on the center of the sole.
---
Other facts of interest:
When I asked the guy who sent me the COACH pictures, he remembered the COACH cost about $3 less.
---

Back to the top of Charlie's Sneaker Pages!
Last Updated: 19 February 2017
---
Search for more shoes:
---
Click here to send E-mail to Charlie.
---
Charlie's Sneaker Pages copyright 1995-2021 by Charles L. Perrin.
READERS PLEASE NOTE: Names of athletic shoe manufacturers, shoe styles, and technologies may be trademarked by the manufacturers. Charlie's Sneaker Pages uses these names solely to describe the shoes with the same familiar nomenclature used by the manufacturer and recognized by the reader.