Memories - Nike Air Flight (1990)
---
Nike Air Flight sneakers remembered...

Nike put this plastic tag on the 1990 series of Air Flight sneakers.

The Nike Air Flight, specifically the particular version that came out in the fall of 1990, was one of my favorite sneakers for several years. I wore mine until they came apart; that took a lot of use! I think I got my money's worth out of these sneakers. I got them in Huntsville, Alabama. Then, I wore them when I headed to Abilene, Texas in 1992. Then, I wore them when I moved to the Houston area in 1994. They were shot by then.
These shoes had an interesting feature: a plastic "grille" on the sides. The Nike Air Flight for 1989 also featured the "grille." The "SWOOSH" was embossed into the plastic grille.
The 1990 Nike "Air Solo Flight" looked exactly the same on first glance. It didn't have the plastic grille and the visible Air bags. Also, the "Air Solo Flight" was $30 cheaper.
---
"Beverly Hills, 90210" fans: These were Brandon's sneakers...

I also noted one of my favorite sneakers turning up in a very popular TV show. Which one? The TV show "Beverly Hills, 90210" had them frequently gracing the feet of Jason Priestly ("Brandon Walsh"). If you want to see a pair of Nike Air Flight sneakers running around, riding a bike, playing tennis, playing basketball, harassing his sister Brenda, rapping with his girlfriend of the week, having quality time with his mother, and generally having lots of high school athletic and fun activities, watch the reruns of the first two seasons. These sneakers turned up on and off until about the time the gang started at "California University." Then, Brandon started running around the campus in a pair of completely black sneakers. They were probably Nike sneakers. If you hadn't noticed, the 90210 gang were mostly Nike Boys and Nike Girls. Maybe the show should have been renamed "Beaverton, 97005"...

---
The Nike Air Flight in action on Charlie!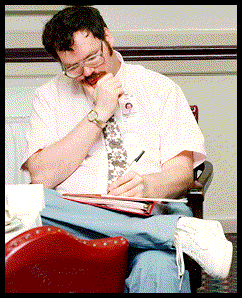 Charlie in a 1991 planning meeting for a Huntsville, Alabama area charity. Dress shirt, tie, and Nike sneakers required.

---

Back to the top of Charlie's Sneaker Pages!
Last Updated: 23 February 2017
---
Search for more shoes:
---
Click here to send E-mail to Charlie.
---
Charlie's Sneaker Pages copyright 1995-2021 by Charles L. Perrin.
READERS PLEASE NOTE: Names of athletic shoe manufacturers, shoe styles, and technologies may be trademarked by the manufacturers. Charlie's Sneaker Pages uses these names solely to describe the shoes with the same familiar nomenclature used by the manufacturer and recognized by the reader.