Patriotic American Sneakers
Red, white, and blue: a catchy color combination if there ever was one. You'll see it everywhere from the canopies of Chevron stations to the ankle patch of the Converse "Chuck Taylor" All Star to US Postal Service vehicles.
Let's hear it for the old (and new!) red, white, and blue sneakers!
---
adidas Antelope:
The adidas Antelope was one of the leather adidas track training shoes of the late 1960's and early 1970's. It was predominately white, but featured red and blue stripes (red - blue - red order).
---
adidas Wilhelm Bungert:

This adidas style, the Wilhelm Bungert, was (oddly enough) worn by its German namesake. Wrong colors for Germany, right colors here in the USA.

---
ASICS Top Seven:

The ASICS Top Seven shoe comes in a number of color combinations... including red, white, and blue.

---
Converse Academy:

The Converse Academy is a 2002 reissue of the classic "stripe-star-stripe" leather All Star of the early to mid 1970's. Both times, Converse produced this color combination.

---
Converse "Chuck Taylor" All Star "Stars and Bars":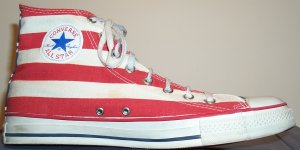 The "Stars and Bars" were originally a 1992 seasonal selection for Converse. However, by popular demand, this design was elevated to "CORE" (normally always in the warehouse) status.



However, after the 9/11 attacks, some on-line merchants reported that the Converse warehouse was sucked dry for several weeks.

---
Converse Pro Leather:
---
Nike Cortez: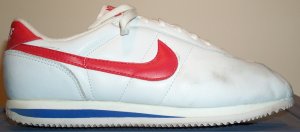 One of the many Nike Cortez color schemes is a white leather model with a red SWOOSH and heel patch and a blue layer in the midsole.

---
Nike Footsweep:

These Nike wrestling shoes feature a red, white, and blue color scheme.

---
Nike Air Huarache 2004 iD:

This is an example of what can be built by NIKEiD.

---
Nike USA Presto: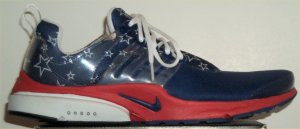 The Nike USA Presto is a shoe that features a red, white, and blue color scheme (mostly blue with white and red thrown in). Proceeds from this particular colorway were donated to 9/11 relief efforts.


The heels of the Nike USA Presto have "USA" in silver printing, and each tongue features an American flag.

---
PRO-Keds Royal Suede: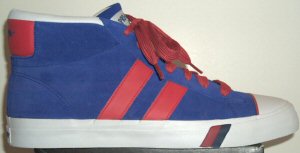 One of the 2003 colorways of the PRO-Keds Royal Suede was a blue with red stripes and white rubber parts.

---
Puma "Clyde"/Puma Suede:
One of the Puma "Clyde" color reissues that has been available is blue suede with a red formstrip and a white midsole and outsole. However, the blue is somewhat lighter than the typical "red, white, and blue" blue.
---
Unknown...
I remember that one of my late aunts had a pair of red, white, and blue sneakers in 1976 for the American Bicentennial. They looked like a pair of Nike Cortez, except they featured a "76" on the side instead of the SWOOSH.
---

Back to the top of Charlie's Sneaker Pages!
Last Updated: 29 May 2017
---
Search for more shoes:
---
Click here to send E-mail to Charlie.
---
Charlie's Sneaker Pages copyright 1995-2021 by Charles L. Perrin.
READERS PLEASE NOTE: Names of athletic shoe manufacturers, shoe styles, and technologies may be trademarked by the manufacturers. Charlie's Sneaker Pages uses these names solely to describe the shoes with the same familiar nomenclature used by the manufacturer and recognized by the reader.