Charlie's Brown Sneakers
Some REAL brown sneakers (not from dirt!)
---

This adidas shoe is a version of the Stan Smith tennis sneaker in brown suede. Note the absence of side stripes or perforations on this version; only a Trefoil logo.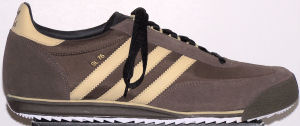 The adidas SL 76 ("76" for the 1976 Olympics) has been made in a number of colorways, including "coffee" with "saraha." (A fancy name for "brown" in anyone's palette.)

This adidas shoe is the Tobacco. It was originally marketed in the late 1970s. Now, adidas has reissued them on and off in limited editions available from various sources at various times.
---


This ASICS shoe is the Top Seven. It was made in the 2003-2004 time frame in various colorways.
---

The Converse "Chuck Taylor" All Star has some brown models. The Brown Chino colorway is so light, that it is nearly impossible to tell them from unbleached white–either on a scan or in person.

To me, the Hot Chocolate colorway looks good enough to eat (or is that drink?).

Converse has made a khaki-colored hemp cloth sneaker with the interesting name "All Star Hemp High."

The "EZ Chuck" is yet another brown Converse model. This one is in suede.
---

The New Balance "606" cross-training shoe was available in several colorways, including white, black, and (the subject of this page) brown. For those who missed the brown "606," the "608" was also available in brown.
---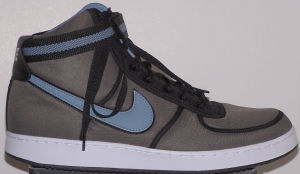 Nike has issued a brown ("clay") version of their classic and beloved (by some) Vandal sneaker.
---

This is a PRO-Keds 2002 reissue: a brown leather version of their 1960's "Court King" tennis shoe.

Another 2002 PRO-Keds reissue: a brown suede version of their 1970's "Royal Master" low-top basketball shoe.
---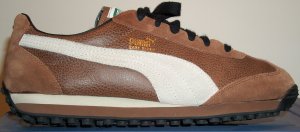 The Puma "Easy Rider" comes in a number of colorways, including (as illustrated) brown.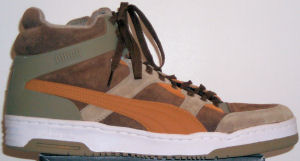 The Puma "Rookie Suede" comes in a number of colorways, including "dark Earth brown" with "coriander" formstrip.

The Puma "Suede Mid" also comes in a number of colorways, including "coffee" with "sesame" formstrip–in other words... brown!
---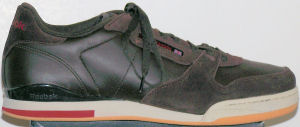 In 2005, Reebok made a version of their Phase I tennis sneaker in a brown colorway with a bit of red trim.
---
Brown sneakers? They're sold as walking shoes and hiking boots, but...

New Balance 963... sneaker, hiking boot, walking shoe?

Nike Air Mada 2... a sneaker or a hiking boot? It's hard to decide...

Nike Air Terra Form... hiking boot or sneaker? They have a silver and orange version that makes it even harder to decide...
Thanks to the marketers, it's getting harder and harder to tell where "hiking boot" ends and "sneaker" begins!
---

Back to the top of Charlie's Sneaker Pages!
Last Updated: 29 May 2017
---
Search for more shoes:
---
Click here to send E-mail to Charlie.
---
Charlie's Sneaker Pages copyright 1995-2021 by Charles L. Perrin.
READERS PLEASE NOTE: Names of athletic shoe manufacturers, shoe styles, and technologies may be trademarked by the manufacturers. Charlie's Sneaker Pages uses these names solely to describe the shoes with the same familiar nomenclature used by the manufacturer and recognized by the reader.