Chuck Takes It EZ
...at least Converse didn't call these the "No Star!"
---
A Question of Nomenclature:
Converse has used two names for this shoe:
Also, some boxes call what I call the "high-top" a "mid-top." My comment about that is that the mid-top is every bit as high-topped as the classic Converse "Chuck Taylor" All Star canvas sneaker.
---
The EZ Chuck Oxford:

Converse has had suede sneakers for years, most consistently under the name "One Star." In the 1970's, they had a "stripe-star-stripe" suede All Star, a "star and chevron" All Star, and a three stripe suede model in their COACH line.

The "EZ Chuck", from fall 1999, appears even closer in design to the traditional canvas "Chuck Taylor" All Star than it is the One Star. The major visible design difference is that both the front and the back have "rubber bumper" material. On the dark blue EZ Chuck, it should be noted that the outsole is also dark blue!
---
The EZ Chuck High-Top:

Unlike the One Star, Converse did not forget the high-top fan. The EZ Chuck also comes in a high-top version!

Note a difference from the canvas "Chuck Taylor" All Star? Yes, of course! The Buick Ventiports are on the inside and the Chuck patch is on the outside!

The EZ Chuck is also in a color that Converse calls "Mercury Grey."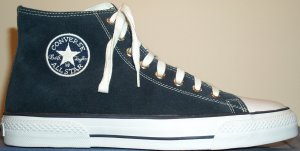 Dark blue, or "Navy," completes the EZ Chuck color palette.
---

Back to the top of Charlie's Sneaker Pages!
Last Updated: 25 February 2017
---
Search for more shoes:
---
Click here to send E-mail to Charlie.
---
Charlie's Sneaker Pages copyright 1995-2021 by Charles L. Perrin.
READERS PLEASE NOTE: Names of athletic shoe manufacturers, shoe styles, and technologies may be trademarked by the manufacturers. Charlie's Sneaker Pages uses these names solely to describe the shoes with the same familiar nomenclature used by the manufacturer and recognized by the reader.