Memories - Converse One Star
---
A NOTE ABOUT THE ONE STAR HEEL PATCH AND OUTSOLE: Earlier production models had a black heel patch, while later production had a white heel patch. Models with the white heel patch omit the traditional "Chuck Taylor" All Star sizing information on the outsole, while models with the black heel patch retained this information.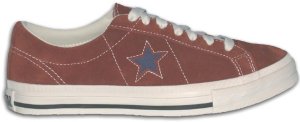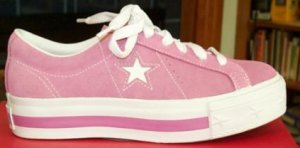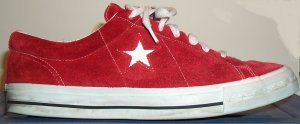 In the 1970's, Converse marketed at least four suede sneaker models similar to the classic "Chuck Taylor" All Star canvas basketball shoe. They were very similar. The major difference between the shoes were patterns on the side. These models included:
The "One Star", which used the standard All Star sole.
A "stripe-star-stripe" model, which used the standard All Star sole.
A "star and chevron" model, which used a slightly modified All Star sole.
A three-striped model in the COACH line.
In 1999, Converse introduced the "EZ Chuck" as yet another version of the same idea.

KIDS, PLEASE DON'T TRY THIS AT HOME: Kurt Cobain of Nirvana, deceased punk rock singer, was wearing black One Star sneakers when he shot himself.
---

Back to the top of Charlie's Sneaker Pages!
Last Updated: 21 February 2017
---
Search for more shoes:
---
Click here to send E-mail to Charlie.
---
Charlie's Sneaker Pages copyright 1995-2021 by Charles L. Perrin.
READERS PLEASE NOTE: Names of athletic shoe manufacturers, shoe styles, and technologies may be trademarked by the manufacturers. Charlie's Sneaker Pages uses these names solely to describe the shoes with the same familiar nomenclature used by the manufacturer and recognized by the reader.