Memories - adidas Promodel
---
Early adidas basketball shoe models started getting wide attention during the 1970-1971 basketball season. That year, my old high school basketball team broke with their Converse "Chuck Taylor" All Star tradition for the low-top adidas Superstar.

The adidas Superstar has a corresponding high-top style, named the "Promodel."

Despite the connotation of the name, the Promodel was no more exclusively for professionals than the Superstar was for superstars.

The Promodel, like the Superstar, has been periodically issued and reissued over the years.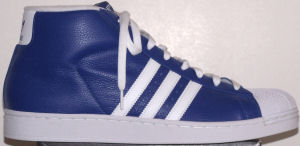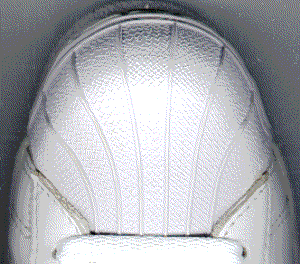 The adidas Promodel and its low-top equivalent, the Superstar, feature a distinctive toe-cap design. Adidas has used the so-called "shell-toes" design in other models.

Here's a picture of a vintage model that, unlike most, only has a partial "shell-toe" (the edges are rubber, the center is leather).
In 1998, adidas created a "Millennium" updated version of the classic Superstar and Promodel, as well as the Stan Smith tennis sneaker.
---

Back to the top of Charlie's Sneaker Pages!
Last Updated: 23 February 2017
---
Search for more shoes:
---
Click here to send E-mail to Charlie.
---
Charlie's Sneaker Pages copyright 1995-2021 by Charles L. Perrin.
READERS PLEASE NOTE: Names of athletic shoe manufacturers, shoe styles, and technologies may be trademarked by the manufacturers. Charlie's Sneaker Pages uses these names solely to describe the shoes with the same familiar nomenclature used by the manufacturer and recognized by the reader.