Memories - adidas Superstar
---
The 1970-1971 era...

Our high school basketball team had worn Converse "Chuck Taylor" All Star basketball shoes for as many years as I've seen yearbooks. For some reason, they wore black high-top Chucks in 1966, but unbleached white for all the other years before 1972. Sometimes they all wore high-tops, sometimes they wore all low-tops, and sometimes a mix of both... this was before somebody got the idea for the mid-top.

In 1970-1971, our basketball team wore the adidas Superstar. A number of other area teams also did likewise. I remember asking my towering friend, Bobby (#24, six feet and nine inches tall, back to the camera), about them. "Aren't they heavy, being leather?" He said, "No, not at all. And they're so much more comfortable than the old Converse high-tops." Note that the Superstar before 1972 did not have the adidas Trefoil ("flower") on the heel patch. Also, note that their opponents in this picture wore Chucks. The guys in the Chucks had a 3-0 record against our team, but we finished a respectable 17-10 overall.

While the Superstar was low-top, adidas remembered high-top fans: the Superstar had a corresponding high-top version, which adidas named the "Promodel."

Here's another Superstar example; red suede with white stripes and trim.

The Trefoil was added to later production. The triple stripes apparently were never trademarked in the USA; it may have been that others copied them first. Consequently, at least two other famous sneaker manufacturers engaged in stripe swiping; adding three stripes may have given their same old sneaker products "adidas appeal" on the store shelf. I do remember that at about this time Montgomery Ward added three stripes to their same old "Skips" and advertised that they had "the adidas look." I also remember that they had one model that cloned the Puma formstrip, but they didn't advertise that they had "the Puma look."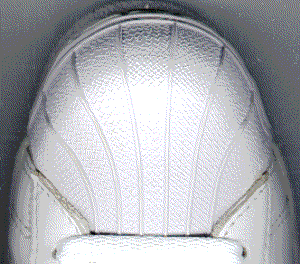 The adidas Superstar and its high-top equivalent, the Promodel, both feature a distinctive toe-cap design. Sometimes, people jointly refer to these two models as the "shell-toes" adidas. I've had at least one person ask me a question like "Where are the pictures of the shell-toes? You mentioned all the other old school shoes." I'd covered them, but didn't note the shell-toe design.
Back to old habits in 1971-1972...

Our team got only a single season away from the "old Converse." Our team went with red low-top Chucks in the 1971-1972 basketball season. Bobby graduated that year. He got a college scholarship to play basketball. His new team wore Carolina Blue ("baby blue") high-top Chucks. Bobby also played tennis in college. (That college got their money's worth out of his Chucks as he also wore them for tennis.)
---
Superstar over the years...
In 1998, adidas created a "Millennium" updated version of the classic Superstar and Promodel, as well as the Stan Smith tennis sneaker.
In 2002: I see Superstar shoes all the time, but as a retro sneaker this time.
In 2017: Still see Superstar shoes all the time. Still a retro sneaker.
---

Back to the top of Charlie's Sneaker Pages!
Last Updated: 5 July 2017
---
Search for more shoes:
---
Click here to send E-mail to Charlie.
---
Charlie's Sneaker Pages copyright 1995-2021 by Charles L. Perrin.
READERS PLEASE NOTE: Names of athletic shoe manufacturers, shoe styles, and technologies may be trademarked by the manufacturers. Charlie's Sneaker Pages uses these names solely to describe the shoes with the same familiar nomenclature used by the manufacturer and recognized by the reader.