Winning in the Sneaker Stock Market - 1997
---
CAUTION: Investments in the stock market can and do lose money; they can also provide significant dividend income and rewarding increases in share value. The companies I list here manufacture athletic shoes, a product whose sales are relatively unpredictable and subject to the whims of consumer demand. Past performance is no guarantee of future performance. This data is historical... using historical information is akin to running backwards (it can be a good exercise but be very careful about running into the unexpected). Potential investors should examine all available data about a given stock, including but not limited to Securities and Exchange Commission filings, before investing.
---
For those who have asked, I Just Did It: bought about $1000 of adidas Group (made enough to buy almost any pair of sneakers they sell) and about $1000 of Nike (made enough to buy five pairs of Chucks). On the other hand, but if you want to buy stock to make money: also consider Airbus Group, Boeing, or Dr Pepper Snapple Group.
---
There are a number of athletic shoe companies (as indicated by their Standard Industrial Codes) that are represented in the various stock markets in the United States (either NASDAQ, NYSE, or the "over the counter bulletin board").
Of the ten I have been able to locate, nine of them made money for their investors in 1996. The 1997 market may have been good on average, but it was unforgiving to sneaker investors. Of the ten companies:
None doubled in value during 1997 (unlike FILA in 1995 and Converse in 1996... neither of which are traded any more!).
Only four of the ten went up in value during 1997.
The best performers of the past three years (Nike in 1994, FILA in 1995, and Converse in 1996) all lost ground in 1997.
The worst performer (LA Gear) went from a high of $2.25 to a close of 6¢ per share during 1997. It is only of historic interest now as it is now privately owned.
---
The winners during 1997:

K-SWISS was nothing to be blue about, being the big winner with a 64.6% gain during 1997.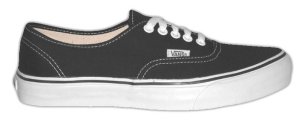 VANS stockholders finished in the black. VANS hauled in a decent 21.0% gain during calendar year 1997. (VANS is now a division of clothing maker VF Corporation.)


Stride Rite (maker of Keds) was certainly striding right. They had a 20% gain during calendar year 1997.



Like their best-known brand, Teva, the stock of Deckers Outdoor Corporation was floating along with the general flow of the stock market. However, it didn't keep up with a 9.1% return during calendar year 1997.

---
The big names of the industry:

Reebok (now owned by adidas) went down 31.4% in calendar year 1997.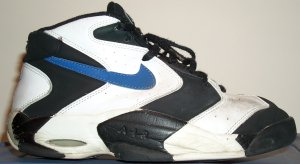 Even with a shoe named the "Air Up", Nike stock went down, and lost its "AIR". Down 34.9% in calendar year 1997.


The value of Converse stock went into the red, taking a skid reminiscent of "Chuck Taylor" All Star sneakers on a wet gym floor. Their investors lost 64.7% during calendar year 1997. Converse is now a division of Nike.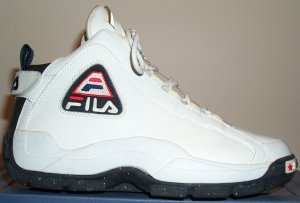 The stock value of the maker of Grant Hill's shoes fell off the proverbial Mountain during 1997. FILA ADR investors lost 65.4% during calendar year 1997. (FILA later went private.)


The stock price of LA Gear took a real nosedive during 1997. Not only did it go off the NYSE, but the value of the stock went from $2.25 to 6¢ a share during 1997. Over the year, stockholders lost over 97% of their investment; let's hope they needed some capital losses to counteract their capital gains at tax time. The lowest price during the year was 1¢ a share! Take your choice: $50 will buy one pair of shoes or 5000 shares in the company! (LA Gear went private in calendar year 1999.)

---

Continue onward to view 1998's results...


Back to the top of "Charlie's Sneaker Pages!"
Last Updated: 23 February 2017
---
Search for more shoes:
---
Click here to send E-mail to Charlie.
---
Charlie's Sneaker Pages copyright 1995-2021 by Charles L. Perrin.
READERS PLEASE NOTE: Names of athletic shoe manufacturers, shoe styles, and technologies may be trademarked by the manufacturers. Charlie's Sneaker Pages uses these names solely to describe the shoes with the same familiar nomenclature used by the manufacturer and recognized by the reader.