Charlie's Commentary - "Knock-Around" Sneakers
---
This section discusses Charlie's favorite "knock-around" sneakers. One could wear most of these to work out just fine, but I tend to wear these more for out and about instead of working out.
I categorize the canvas Converse "Chuck Taylor" All Star as the classic "knock-around" sneaker, but more up-to-date sneakers don't have some of the shortcomings I perceive in canvas sneakers:
Durability (or lack thereof)
Tendency for the canvas to crease, discolor, and shrink prematurely
Of course, if you want a pair of sneakers in bright colors, you're going to pretty much be limited to ASICS running shoes or canvas.
Accordingly, my choices for the best general knock-around sneakers are:
---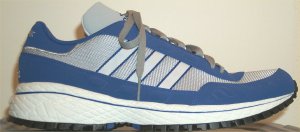 These are both exquisitely comfortable and surprisingly eye-catching, given the number of people who have commented about them.
---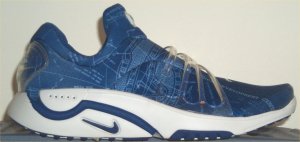 Another pair of eye-catching sneakers: I think my ear, nose, and throat doctor (a really great guy, he typically wears ASICS sneakers and surgical scrubs in the office) was going to buy a pair after seeing mine!
---

Sometimes, I like just the bare necessities. A pair of Nike sport sandals will do just fine. Young Stevie, seeing this very Web page, dared me to wear these to work once. I wore them to a design review with NASA. None of the managers raised an eyebrow. They were probably overwhelmed to see me wear a tie.
---

The Tretorn Nylite is a great all-white sneaker. Extra added attractions are that they are cleanly styled, comfortable, and light. The only down-side is that they sure won't do if you're in the high-top mood.
---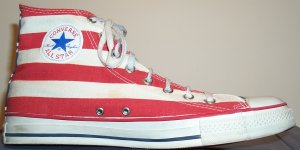 As far as I'm concerned, this shoe requires one of two excuses to wear it:
patriotic holidays
a really good day!
---

Back to the top of Charlie's Sneaker Pages!
Last Updated: 12 February 2017
---
Search for more shoes:
---
Click here to send E-mail to Charlie.
---
Charlie's Sneaker Pages copyright 1995-2023 by Charles L. Perrin.
READERS PLEASE NOTE: Names of athletic shoe manufacturers, shoe styles, and technologies may be trademarked by the manufacturers. Charlie's Sneaker Pages uses these names solely to describe the shoes with the same familiar nomenclature used by the manufacturer and recognized by the reader.