Shoes for the Gals
---
Sneakers were equal opportunity long before Title IX...

Some of my readers have sent me quite nasty flame mail complaining that this particular Web page stereotypes what the gals like to wear for their athletic pursuits.
Of course, everyone knows that guy sneakers fit the gals reasonably well. In fact, some gals have written to say they would rather wear guy sneakers... complaining that the ones made especially for the gals were just not as well-constructed. However, if the gals have tiny feet. they may have to buy kid sizes to get them to fit. This has gone on for many years. In the Baby Boom years, basketball gals frequently wore Converse "Chuck Taylor" All Star shoes just like the guys did! The only difference is now the young women might be wearing Air Jordan basketball shoes instead.
As you can see, these Baby Boomer basketball gals have their high-top Chucks on and they're ready to go!
On the other hand, there are some women's shoes I'd like to have (if I could get them to fit). One example is what I call the "Moon Boots." Unfortunately, I wear fairly large sneakers.
---
My former co-worker Melanie told me: "But Chucks are GUY shoes!"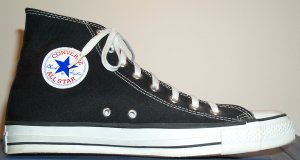 They may be "GUY shoes," but Melanie (and a lot of other gals) wear Chucks.
---
Gal Tretorns or Guy Tretorns?

According to Tretorn, the classic Nylite is exactly the same no matter where you find them in the shoe department. Tretorn does make them somewhat larger for guys with big feet.
---
Early Baby Boomer Era Gal Sneakers:

The "Baby Boom" started after World War II ended. In 1946, the Sears catalogue offered these practical white gym shoes for $1.69.

Things hadn't changed much by the time I came along. Except, as I remember, the gals tended away from high-tops; I rarely if ever saw one wear a pair until I was old enough to vote. You may ask: "Cheerleading?" That was a pursuit Baby Boomer Gals generally practiced and performed in canvas Keds.
Well, about 1985, things began to change in the athletic shoe market...
---
Reebok's Freestyle: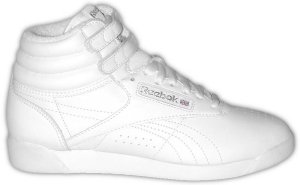 The Reebok Freestyle, in my opinion, was another first in the sneaker market. It was the first athletic shoe intended just for the gals. It was the product that started getting attention for Reebok. The Freestyle is still quite popular, but more as a "knock around" sneaker as opposed to a serious athletic shoe. However, there are some quite serious athletic shoes for the gals:
---

If the gals prefer them, they can (and do) wear about any of the guys' basketball shoes. However, some of the major manufacturers (including adidas and Nike) have styles designed specifically for female athletes. This particular model is the Nike Air C14, named after Cynthia Cooper.

Here's another example of women's basketball shoes: the Nike Air Max Highup, endorsed by Lisa Leslie of the Los Angeles Sparks.

No high-paid endorser, no price tag over $100... this is the Nike Air Max So Good basketball shoe.

Nike SHOX technology for the gals? Of course! This is the Nike Shox Status basketball shoe. Complete with ZOOM AIR in the front, SHOX in the back.
---
Start GLOWING! It's Aerobics time!

Melanie loaned me her new Nike Max Pulse aerobic shoes to scan. The first time I saw these, I looked at them and said "These look like Moon Boots!" And the Moon Boots were $115 in 1995, that was a lot back then for a pair of athletic shoes.

Melanie wore out her earlier "Moon Boots." These were her 1998 Nike Air Max aerobics shoes. The AIR configuration ("Max Air" in the heel, "Zoom Air" in the forefoot) is the same as the Nike Air CB-34 basketball shoe.

If your budget won't go for a pair of "Moon Boots", you used to be able to get a pair of Nike 2010 Plus aerobic shoes. These little gems were a bargain at under $100!
---
WARNING: Stereotypical "PRETTY IN PINK" sneakers!

I know some guys who wear Tretorn Nylite tennis sneakers, myself included. However, for some reason, they've always chosen to leave this particular model for the gals!

Don't get upset at the pink LA Gear sneakers... or the pink scrunch socks... would anybody dress this way in this millennium other than for a party celebrating the previous millennium?
---

Back to the top of Charlie's Sneaker Pages!
Last Updated: 12 July 2017
---
Search for more shoes:
---
Click here to send E-mail to Charlie.
---
Charlie's Sneaker Pages copyright 1995-2021 by Charles L. Perrin.
READERS PLEASE NOTE: Names of athletic shoe manufacturers, shoe styles, and technologies may be trademarked by the manufacturers. Charlie's Sneaker Pages uses these names solely to describe the shoes with the same familiar nomenclature used by the manufacturer and recognized by the reader.