Memories - Generic Basketball-Type Sneakers
(aka "Chuck Clones")
---
A multitude of names...
When I grew up (just outside of Kansas City, Missouri), these were just called "sneakers" or "tennis shoes." However, in various parts of the United States, there were a variety of interesting names for these "no-name" sneakers:
Up to the early 1970's, Chucks were pretty much the standard aspirational sneaker (if you didn't have them, you wanted them!) for Baby Boomer Boys growing up and playing basketball... up to the time that adidas became popular. Then, some sneaker manufacturers started adding stripes to their same old product. There were two basic questions in picking out your sneakers in the early days:
"Black or white?"
For those not wanting to spend extra (or, as is true now, whose parents didn't want to spend extra) to get the genuine article, the major department stores and shoe stores all had their Chuck Clones. Around 1970, the genuine "Chuck Taylor" All Star went for around $10, while you could have a pair of quite functional Chuck Clones for $5.
There were also generic running-type sneakers in the 1960's and 1970's, that were more or less "adidas clones" in their design.
As I, and others, remember some generic basketball-type sneakers:
---
All Star (Brazilian):

These are NOT your usual Chucks! Until 2003, another shoe company had the rights to the All Star name in Brazil, and they produced these shoes. Jorge (the guy who sent me the picture) was mystified by the reference to "Julius Sixers," but I figured out it was likely a reference to "Julius Erving... of the Philadelphia Seventy-Sixers." Indeed, in his heyday, Julius was either "America's No. 1 All Star" or he was close!
---
Athletic Works:
One of my readers mentioned that Wal-Mart had (in October 2002) a pair of excellent Chuck clones under the "Athletic Works" brand name. He also noted that they were even more comfortable than "real Chucks." Those who insist on sneakers with good arch support would say "not hard!"
---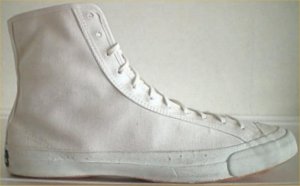 A brand of canvas sneakers made by the Bata Shoe Organization. I remember that some jocks did wear these shoes (which did come in both low-tops and high-tops) in high school, preferring them to the nearly omnipresent Chuck.
---

Converse had a clone they called the COACH. Look here for a detail comparison of the Converse COACH versus the Converse "Chuck Taylor" All Star.
---
Converse Player LT:

Another "not a Chuck" from Converse: the "Player LT" sneaker, white with red and black trim.
---
Converse Sportking:
Consumer Reports reviewed this shoe in 1968: $5.95 in high-top (white or black); low-tops also available if you insist.
---
Converse Staff:
I've had a couple of readers remark about the Converse Staff. Reportedly, they were even cheaper than the Coach.
---
Cousy, Bob:

A number of my readers have commented about "Bob Cousy" canvas high-top basketball shoes with the name on both the ankle patch and the heel patch, in green printing. One even sent me a picture of the heel patch.
---
Grips:
The first time I had heard of "Grips" in regards to sneakers, it was a reader mentioning that it was a slang term. As it turns out, there was indeed a "Grips" brand sneaker in the 1960s. Grips were made by the Beacon Falls Rubber Footwear Company of Beacon Falls, Connecticut... yet another long-gone brand. They were mentioned in the 1968 Consumer Reports review of kids' sneakers.
---
Hood:

Hood made PF Flyers in 1962. Later on, PF Flyers became a Goodrich brand, then a Converse brand... finally ending out with New Balance. Hood also made shoes under their own name.
---
Hummers:
I had a reader mention these... he didn't know whether "Hummers" was a brand name or a nickname.
---
Jox:
I had a reader mention these... with the epithet: "DEFINITELY boboes!"
---
Lapchick, Joe:

I've had a reader mention canvas basketball shoes with the name of one-time New York Knicks coach Joe Lapchick on the ankle patch. They were sold by Kinney Shoe Corporation. Kinney Shoe Corporation became part of Woolworth Corporation; the "five-and-dime" company in the USA, not the similarly-named grocery store in Australia. In 1974, Kinney Shoe Corporation started Foot Locker. Since then, Woolworth closed or sold off all the other parts of the company. In 2001, they changed their corporate name to Foot Locker, Inc. They even relinquished their prestigious one-letter trading symbol "Z" to switch the more meaningful "FL" symbol. As of the end of 2004, Foot Locker, Inc. now has nearly 4000 locations worldwide under various brands (Champs Sports, Eastbay, FootAction USA, Foot Locker, Kids Foot Locker, Lady Foot Locker).
---

A brand of sneakers from Mitsubishi. Interestingly enough, Mitsubishi is not a single company, but a number of now-independent businesses who share a common corporate history (some of them include Mitsubishi Chemical, Mitsubishi Corporation, Mitsubishi Electric, Mitsubishi Heavy Industries, Mitsubishi Pharmaceuticals; Mitsubishi Pencil, however, is not related to the other Mitsubishi companies). One of the Mitsubishi companies still (as of 2004) sells sneakers in Japan. Some other examples of companies that share common corporate histories: Playtex (clothing, household products); Remington (guns, razors, and [at one time] typewriters); Marathon (oil exploration and production, oil refining and marketing); and United (United Airlines, United Technologies).
---
A brand of Chuck Clones remembered by some people during a discussion of old sneakers.
A reader of Charlie's Sneaker Pages told me these were sold by the Thom McAn shoe store chain. I would have probably not seen them, as Thom McAn stores were in Saint Louis and points east of there; I grew up near Kansas City. Like NBA's, Thom McAn is no more. The last ones were shut down in late 1996. Interestingly enough for sneaker freaks, many of the former Thom McAn locations were converted to FootAction USA stores.
Another reader mentioned NBA's in connection with the Kinney shoe store chain... and Kinney is the ancestor of today's Foot Locker chain.
---
North Star:

One of my readers wrote with enthusiasm about his old North Star sneakers. Instead of being strictly Chuck Clones, they look like they combined the basic design of the Nike Blazer Canvas with the two-stripe design favored by PRO-Keds of that era.
---
Mentioned by one of my Canadian readers, who said "They were well made... almost as well as Chucks."
---
J. C. Penney:
JCPenney, in addition to selling name-brand sneakers, had a produced a private-label sneaker with the ankle patch that read "JCP Air Cooled."
The three large letters on the ankle patch were in the unique typeface used for Penney signage in the 1950's and 1960's.
The letter "P" was the largest of the three and in the middle... so it actually read "JPC" from left to right.
The term "Air Cooled" was on the ankle patch, referring to the Buick Ventiports in the arch area.
I've seen pictures of these sneakers where a dark strip ran along both sides of the heel fabric.
---
PNH (P. N. Hirsch):
A brand of sneakers sold by the P. N. Hirsch department store chain. P. N. Hirsch is no more... they were absorbed by Dollar General Corporation in 1983. I (Charlie) remember having a pair when I was a kid.
---
PRO:
Yet another brand of Chuck Clones. I (Charlie) remember having a pair when I was a kid.
---
PRO-Keds: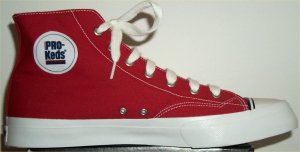 I'm not certain PRO-Keds should be called Chuck Clones. They weren't trying to look like a Chuck, and they had serious wearers all the way to professional basketball players.
---
Randy Pedic:
I had a writer comment about Randy Pedic brand sneakers. They were made by the Randolph Manufacturing Company of Randolph, Massachusetts... long gone. They were mentioned in the 1968 Consumer Reports review of kids' sneakers.
---
are a brand of sneakers that have been mentioned several times by site visitors. Red Ball Jets were made from 1951 to 1971, then the sneakers were discontinued. They were mentioned in the 1968 Consumer Reports review of kids' sneakers. Red Ball, Inc., continued in the footwear business for many years, but without any sneakers in their product line. They eventually became part of LaCrosse Footwear.
---
are yet another brand of Chuck Clones mentioned by visitors by this Web site. One reader sent me a poignant tale of the indignity of having to wear Scats as a young boy.
---
produced a sneaker labeled with the brand name "Jeepers." Jeepers looked more like Chucks than the Penney or Wards products. My older brother Bruce had a pair, and I thought they were a dead ringer for Chucks. Jeepers were produced in the same factory as the Converse All Star, but there were some small differences. Some boys called them Cheaper Jeepers, and some enterprising youth in Eugene, Lane County, Oregon started their own business removing labels from Jeepers for a small fee. They were mentioned in the 1968 Consumer Reports review of kids' sneakers.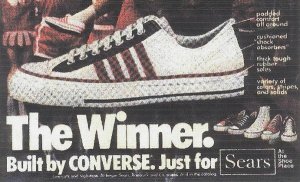 For many years, Sears had a house brand sneaker called "The Winner." This ad points out that "The Winner" (in this particular incarnation) was "Built by CONVERSE" and they sure looked it. Also note the quadruple stripes; not a mere three in the adidas tradition.
---
Another brand of Chuck Clones mentioned by an avid reader of the USENET alt.clothing.sneakers newsgroup.
---

One of my readers sent me a picture of this ankle patch. The patch is on the outside of the sneaker, instead of on the inside in the classic Chuck style. He described the sole as looking "for all the world, identical to a Chuck, including the material." (A complete mystery.)
---

Wards sold their house-brand sneakers to Baby Boomers and the previous generation using the "Skips" brand name. The 1931 Wards catalogue had Skips and I can remember them in the 1970s. They were mentioned in the 1968 Consumer Reports review of kids' sneakers. My typical fall school shopping trip started at Wards... then, if Mom and I didn't find what we wanted, then off to Sears and Penneys; although later on, we decided "the good stuff is at Penneys" and went there first. I can never remember ending out with Jeepers until I upgraded to Chucks for gym class in 1973... so I must have decided the first stop we came to was good enough. The rubber foxing around the Skips that I remember looked nothing like Converse; it was untextured. In 2002, I noted that the Montgomery Ward bankruptcy trustee was attempting to sell all their brand names to the highest bidder. For those who like tradition, the name "Skips" was available for sale!
---
WTG (W. T. Grant):

While the W. T. Grant department store chain went bankrupt in the middle 1970s, the W. T. Grant Foundation (endowed by the chain's founder) is alive and well.
---

Back to the top of Charlie's Sneaker Pages!
Last Updated: 20 July 2017
---
Search for more shoes:
---
Click here to send E-mail to Charlie.
---
Charlie's Sneaker Pages copyright 1995-2021 by Charles L. Perrin.
READERS PLEASE NOTE: Names of athletic shoe manufacturers, shoe styles, and technologies may be trademarked by the manufacturers. Charlie's Sneaker Pages uses these names solely to describe the shoes with the same familiar nomenclature used by the manufacturer and recognized by the reader.