Charlie's Top Ten Sneakers
---
A few years back, the athletic footwear store chain FootAction USA put together a list of their top 100 sneakers. After reading it, I was somewhat amazed at the list, to say the least. They included what were, to my mind, such eminently forgettable sneakers as the Air Jordan III in high locations. Even worse, they left out what I felt were some of the most groundbreaking athletic shoes ever produced! So, I'm going to report my top ten, for better or worse... and, for those who wonder, my taste is somewhat "old school."
---
#1 - Converse "Chuck Taylor" All-Star

The Converse "Chuck Taylor" All-Star, usually called the "Chuck" by its true believers, gets the top honors for having incredible staying power. Some have thought Converse would discontinue this shoe a number of times. However, it still maintains a steady sales volume of at least five million pairs worldwide per year. Reportedly, back when Converse and Nike were competitors, the Converse brand manager for this product has said something to the extent that "The first person to propose discontinuing the Chuck will be sent back to Nike." The Chuck is also a shoe that (in many families) spans the generations: Grandfather wore it to play basketball, Dad wore it to play basketball, and son (or daughter!) wears it just to be cool!


HINT TO CLUELESS RETAILERS: Stock this shoe (at least in the core colors)! People are always asking me where to buy it. There's mail order to start. Also, a lot of people have reported to me that Converse Customer Service will refer you to a local Chuck seller on their toll-free number.
---
#2 - Reebok Freestyle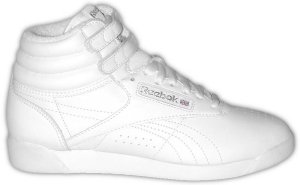 The Reebok Freestyle started out as the pioneering aerobic conditioning shoe. However, now, it has a life of its own as a casual, kick-back shoe for the women (and, apparently, some men with small feet). While it seems to be a staple with tees and jeans, more than a few have been worn as "to and from work" sneakers with dress-up clothing.

---
#3 - adidas Shell Toes

The adidas Superstar (low-top) and Promodel (high-top) were the first basketball shoes to make significant inroads into a market then dominated by the canvas Chuck. Sometimes lumped together under the nickname "Shell Toes" (for the distinct toe cap pattern), these sneakers have been issued (and reissued and reissued) seemingly without end.

---
#4 - Reebok BB4600

The Reebok BB4600 has been a staple in the male sneaker wardrobe since Reebok has been in the United States basketball shoe market. It has been updated and reissued periodically for decades.

---
#5 - Keds Champion

The Keds Champion defines "sneaker" for the female Baby Boomer. Even (especially?) the cheerleaders. One significant exception: if they played basketball... then, they usually wore high-top Chucks just like the big boys did.

---
#6 - Reebok Ex-O-Fit

If you were to take a notepad and check off what sneakers guys wear when they work out, you'd find they have a wide variety. However, the black high-top Reebok Ex-O-Fit would probably take the prize for "most seen." Similar to the Reebok Freestyle, it also has incredible staying power in the market.

---
# 7 - Nike Cortez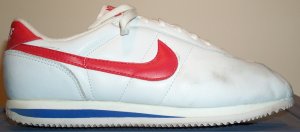 The Nike Cortez is an original Bill Bowerman design that predates Nike; it was originally an ASICS style. The Cortez cushioned aspiring track stars in training with shock absorption from heel to toe. Now, like many sneakers of its era, its been issued (and reissued and reissued) as a casual shoe.

---
#8 - Tretorn Nylite

The Tretorn Nylite is a clean, classic, preppy design that is a relief in this day of overhyped monstrosities with technologies that sound like a chemical spill.

---
#9 - Teva All-Terrain


Other products may outperform the Teva All-Terrain but the classic Teva design brought the concept of the rugged sport sandal to the marketplace.

---
#10 - Nike Blazer and Bruin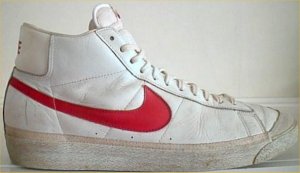 The Nike Blazer (high-top) and Bruin (low-top) were the first in a line of Nike basketball sneakers that stretch forth to this day.

---
Honorable Mention - Air Jordan IX

While Michael Jeffrey Jordan may or may not be the best basketball player of all time, his Nike handlers definitely did the best job of marketing. To me, the Air Jordan IX has the advantage over most Air Jordan models that it is not downright ugly! Ironically, this shoe that came out when Michael was in his first retirement... but he was even seen displaying his minimal baseball ability wearing them. I even liked to wear them.

---

Back to the top of Charlie's Sneaker Pages!
Last Updated: 4 July 2017
---
Search for more shoes:
---
Click here to send E-mail to Charlie.
---
Charlie's Sneaker Pages copyright 1995-2021 by Charles L. Perrin.
READERS PLEASE NOTE: Names of athletic shoe manufacturers, shoe styles, and technologies may be trademarked by the manufacturers. Charlie's Sneaker Pages uses these names solely to describe the shoes with the same familiar nomenclature used by the manufacturer and recognized by the reader.